Geothermal — the way forward to decarbonization and electrification
Industry experts weigh in on geothermal market trends.
yangnavia Creatas Video+ / Getty Images Plus
Jay Egg, president of St. Petersburg, Florida-based Egg Geo, discusses how geothermal systems could help meet decarbonization goals.
While it may feel like the other side of the world, Russia's invasion of Ukraine will have lasting effects — including sparking the European Union's hasty transition to energy independence. In May, the EU announced a $300 billion roadmap to ditch Russian energy — mainly oil and gas. The EU said it would slash consumption of Russian gas by 66% by the end of the year, and break its dependence completely by 2027 by saving energy, finding alternate sources and speeding up the transition to renewables, according to ABC News.
Though wind and solar are being reportedly looked at, EU leaders shouldn't forget about geothermal heating and cooling.
"It's having an effect for sure — everyone is paying attention to the rising cost of combustible fuels here in the U.S.," Jay Egg explains about the war in Ukraine. Egg is president of St. Petersburg, Florida-based Egg Geo, a full-service geothermal technologies firm providing geothermal consulting, code writing, engineering and educational services. "Historically, one of the biggest hurdles to adopting geothermal heat pumps in many areas was return on investment (ROI). It was really hard to get payback on a geothermal heat pump because the price of natural gas was so low. Now, with the rising cost of fossil fuels and this energy concern, people who were not already thinking about this are now paying attention."
Egg notes he saw some of that concern play out at the New York Geo Conference last month. "People are seeing that this is serious — we have to get away from using fossil fuels because this is a volatile market."
Many markets are heading this way, Egg points out. "NYSERDA, the New York State Energy Research and Development Authority has provided major funding for community heat pump systems. And we're part of several other New York City-based thermal energy network projects where they're taking multiple blocks and pulling them together. As a matter of fact, we're working on a project now —it's called Penn South — near Penn Station. We have letters of commitment from not only Penn South, which is 2,500 apartments covering five blocks, but also the State University of New York has a campus right across the street (the Fashion Institute of Technology, or FIT) that wants to tie into this network of thermal energy. The Penn Station wants to tie in, Amtrak has indicated they would like to sign on. The U.S. Postal Service has also signed on because they have one of the biggest sorting stations in the state right there across the street.
"The reason why this is so brilliant is that, in the middle of winter, the Penn South Cooperative apartment complex needs 4 megawatts of thermal energy to heat all 2,500 apartments, but the U.S. Postal Service sorting station across the street emits 8 megawatts of thermal energy from all of its data and equipment. So now, all we need to do is pump that thermal energy across the street in hydronic pipelines. This is the beauty of where our industry is going, how we're evolving. We're evolving from one individual geothermal borehole per building, one borehole per house type systems to more of the municipal infrastructure-based projects. They can start to share this energy, which as a whole reduces the overall infrastructure cost per person or per building."
While what's happening overseas is of interest, WaterFurnace International Vice President of Commercial Sales and Marketing Paul Selking doesn't see any impact in the U.S. market in the short term.
"It certainly supports the megatrend of electrification and decarbonization," he says. "Clearly a huge piece of that puzzle are the alternative energy technologies, and geothermal, we believe, is the best one for various reasons. The impact in the short-term is very minimal, but it does support the long-term goals, and may actually bring it to light for a larger audience. In the U.S., it's not a political issue because it's being driven now by a global issue they're seeing every day with rising fuel costs."
Geothermal in the U.S.
According to Ian McIver, product manager for Bosch Thermotechnology Corp., the geothermal market has always been small in the United States; however, the market is slowly growing and Bosch is hopeful that with an increased focus on high-efficiency products and electrification, the industry will continue to grow.
"Residential tends to be the larger focus for geothermal products," McIver says. "Geothermal is inherently expensive, with the equipment being the highest efficiency possible and then the added cost of having to drill and install a loop field. There is a federal tax credit that helps to make geothermal a more financially viable option. Additionally, there are also homeowners out there that are making the choice regardless of cost to have the most efficient product in their homes, this decision usually isn't as easy to make for businesses."
One compact geothermal system in a Greenville, Illinois-based lake house provides forced air heating, radiant heat and 100% of the domestic hot water needs, with a separate, compact horizontal system providing forced air cooling, which offers ample space in the mechanical room for storage. Photo courtesy of Enertech Global.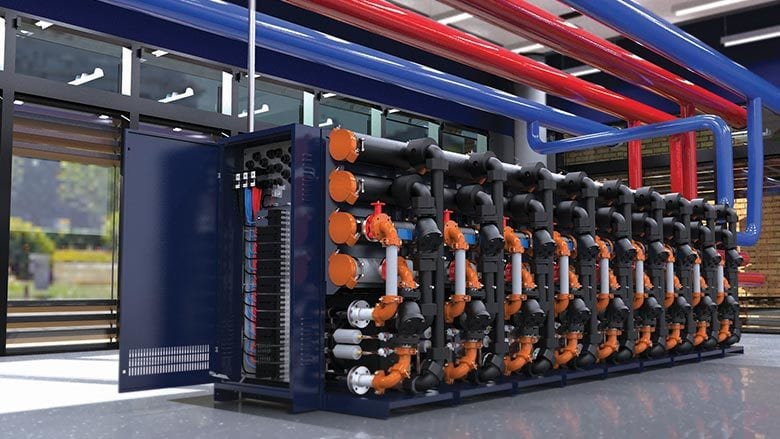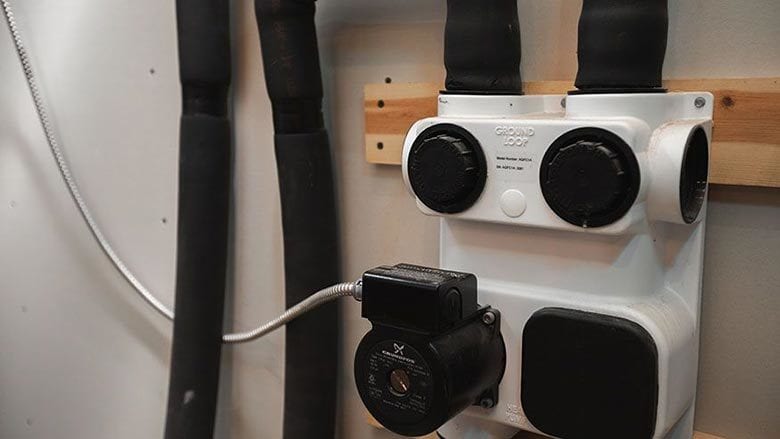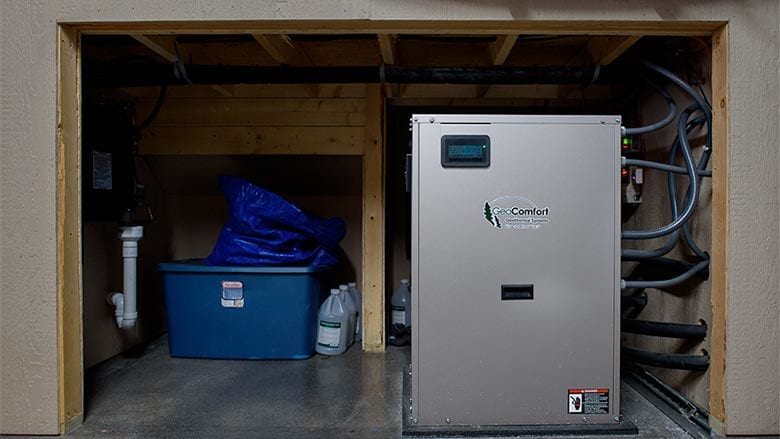 This all-electric home in Trenton, Illinois, features a 10KW DC solar PV ground mount and a 4-ton two-stage vertical packaged Compass XT geothermal unit with two water heaters stored in their fully finished basement. Photo courtesy of Enertech Global.
WaterFurnace International's commercial chiller bank is installed in a geothermal application. Photo courtesy of WaterFurnace International.
Jeff Lawrence, director of commercial sales for Enertech Global, notes the geothermal market is absolutely growing.
"Energy was already an issue prior to current events," he explains. "Electrification, net-zero and carbon reduction have been buzz words for years now and the momentum is really catching up to our market. Rising energy prices over the past couple of years have been a catalyst for the said buzz words.
Enertech works in both commercial and residential markets. Certainly, residential continues to see the most growth as local rebates and tax incentives promote geothermal installations by putting money right back in peoples' pockets. Commercial geothermal projects continue to grow, however, this market sector does not have the same lucrative incentives as residential."
Selking describes the geothermal market as "stable."
"We are definitely seeing a significant uptick when it comes to the utilization of products like ours, which ties into the larger megatrend of electrification and decarbonization. Geothermal is the best option because it doesn't matter if it's windy or calm or if the sun is out or if it's in the middle of the night — geothermal is steadily providing that clean energy resource, 24/7, 365. And that's something that is needed especially in the commercial space. A lot of buildings operate 24/7, so you have to have energy sources that can also respond accordingly."
WaterFurnace is seeing increases in both residential and commercial geothermal markets, Selking notes. "I would say we're expanding our available market in the commercial space through our new product introduction," he says. "Last year, we introduced some additional chiller products and some additional large tonnage water-source heat pumps. We've seen very nice business growth in that space for the first four months of 2022."
The growth of "Geo-hoods"
Geothermal neighborhood communities, or Geo-hoods, have definitely been increasing in number over the last several years.
"They are a really interesting way to share the cost of the geothermal well installation process across a large number of homes and businesses," McIver notes. "They also provide a unique opportunity for load balancing to achieve increased energy efficiency. I think their potential is still being realized and I am excited to see some of the developments in this application."
Enertech is also seeing exponential growth in developments where there is a shared community loop, Lawrence says.
"I feel everyone has the best intentions to be more energy efficient; however, the first cost of these systems can be intimidating," he says. "There are companies out there that set up a 'micro utility' and remove the cost of the loop field for the developer by installing and owning the loop field, then leasing or renting the energy to the homeowners. Enertech is involved with several projects across the U.S. and Canada using this concept."
Geo-hoods, along with district energy loops on the commercial end, offer utilities an opportunity to capitalize on renewable energy, Selking explains.
"Think about it — there's this huge natural gas infrastructure across the U.S. from a utility perspective, and now if you take away that natural gas from the utility, what are they going to do to replace it? One option is geo-hoods or, on the commercial side, a lot of times it's called district energy loops, but it's the same concept. When you're using a large geothermal field to feed multiple buildings — whether they're residential or commercial — who is going to invest in doing that? Is the developer going to do it? Potentially. The utility is a very likely candidate to continue to expand in this area because they could replace some of that lost revenue on the gas distribution side by feeding and tapping into a large geothermal loop and charging that homeowner just how they charge today for electricity and natural gas. All of these types of projects are still in their infancy though."
Geothermal energy networks present opportunities for cities
District energy loops or geothermal energy networks — both phrases mean the same thing.
"A geothermal energy network identifies a bunch of buildings in a cluster or several blocks," notes Egg. "When you do that, you find there is extra energy that needs to be unloaded. The funny thing is, we always find that we have extra energy in the urban settings — especially in the summer because everybody's air conditioning is running. But even in the winter, there is going to be extra energy. What we do is model this horizontal pipe network and connect all the buildings together. This is not new — it's actually been done overseas — Stockholm, Sweden, being one of the first to do it on a citywide basis starting in the 1980s.
"The lowest hanging fruit to get rid of that energy is surface water — for example, the Hudson River," he continues. "We know it varies from country to country, but about 80% of the population of the United States lives within 10 miles of major surface water that could be used for energy exchange. If there isn't surface water nearby, is there land? Is there a city park where we can put in thousands of geothermal loops? Or even think about wastewater. The wastewater coming out of these buildings — whether the outside temperature is 0° in the wintertime or 100° in the summertime — is always between 65° and 75° simply because wastewater assumes the temperature of the building and its occupants. It's not only a good source of heat for providing space heat and domestic hot water heat for the facilities, but it's also an excellent opportunity for a heat sink in the summer. If there is extra heat in the building because of air conditioning and internal loads, we can inject that heat into the wastewater. And this isn't just a crazy idea — it's been done countless times, not only in the U.S. but around the world. These wastewater heat exchange systems are basically the equivalent of exhaust recovery ventilators (ERVs), except it is hydronic energy recovery for buildings."
Selking notes that everything in our lives has changed because of technology, and the same can be said about geothermal. "The best example, because it's happening right now matter of fact, is in New Paltz, New York. There's a multipurpose building there called Zero Place. Zero Place has water-source heat pumps, and the building is sitting on 15 geothermal wells underneath it. So instead of thinking of it as you would normally think of it — like my own home, I have two acres and a closed loop that covers a good portion of my front yard, even though you can't see it — you think outside the box. In this case, it's literally under the foundation of the building."
Selking explains that geothermal system design in high-density areas simply calls for creative thinking. "On the technology side, one thing that's really expanded in the last 10 years is the idea of vertical boreholes. In the past, there were large, horizontal loops that took up quite a bit of acreage — like at my own home. Now, it's very common with several different technologies out there in the geothermal loop space where they can just stay at one spot and drill vertically, at an offset angle. Lots of technology changes have happened recently, and are continuing to develop more."
Barriers to adoption
The No. 1 thing that always comes up when determining whether or not to use geothermal on a project is cost, McIver notes.
"Geothermal is expensive with the equipment, drilling and loop installation," he says. "Having federal and local tax incentives to install these systems do help to make the technology a competitive choice, but these incentives are usually only renewed a few years at a time. I believe it would really help the market develop if the incentives could be guaranteed for longer periods of time."
Building heating and hot water represent 40% of carbon emissions in the U.S. Until those buildings get away from burning fossil fuels, the country is not going to meet its decarbonization goals.
Currently, the geothermal tax credits are being phased out, with less being offered each year. A 26% federal tax credit for residential ground source heat pump installations has been extended through Dec. 31, 2022. The incentive will be lowered to 22% for systems that are installed in 2023. For commercial buildings, the tax credit falls to 10% for properties whose construction begins prior to Jan. 1, 2024.
"First cost — it will always be first cost and the fear of something consumers think is new," Lawrence agrees. "It's going to take educational awareness and a big push from local utilities.  Consumers need to see, feel and experience geothermal systems to get over their unknowns of the technology."
Selking also points to first cost as the largest barrier to adoption. "When you compare the technologies, nobody is presenting the lifetime energy usage. Nobody is taking the carbon footprint of having a gas furnace burning away or a huge boiler in a commercial building. You have to educate people — it's all about the education of the lifecycle cost. And the good news is there's never been a time in the history of the United States where the awareness of environmental impact to the planet has been greater."
Egg agrees the key to adoption is knowledge.
"The solution is to educate the public that this is the best way to decarbonize or get them off fossil fuels, which is the goal," he says. "Some of those goals have teeth in them. In other words, if you're in New York, they're starting to charge people carbon taxes (NYC Local Law 97 imposes fines for buildings that are not reducing CO2 emissions) and so forth. But the key is knowledge. From past experience, very few people will subscribe to something as painful as converting to heat pumps or decarbonizing until they are forced to do so. Look back to the 1970s, when the automobile industry switched to catalytic converters — if the federal government hadn't mandated it, how many people do you think rhetorically would have paid $1,000 more per vehicle because they wanted to buy a car with clean emissions? That's ridiculous — nobody would do that. I wouldn't do it, and I consider myself a pretty green guy. What's happening today has to be mandated at the state and municipal level."
Egg points out that both union and nonunionized natural gas workers are concerned about the transition because their livelihood is based on piping natural gas. "Where are the boilers going? Where are the furnaces going? They're concerned with what they are going to work on ­— what's next? The UA (The United Association of Journeymen and Apprentices of the Plumbing, Pipefitting and Sprinkler Fitting Industry of the United States and Canada) hired Egg Geo to travel to union shops around the country to explain about piping these geothermal energy networks. And that's helping put them at ease because they realize whether they're piping natural gas, steam, hot water or geothermal energy networks, they will still have a job. So now, they're hiring us to create a curriculum and train the plumbers and pipefitters on what's next."
Is decarbonization and electrification really the future?
In a word, McIver says, "Yes."
"Heat pumps, in general, operate using electricity, so they work well with the electrification movement," he says. "Geothermal is the most efficient way we have to heat or cool a space. Reducing our use of energy is key to decarburization."
Though Selking fully discloses he may be biased, he also nods at geothermal as the best way to achieve electrification and decarbonization goals in the future.
"We think it's the best solution," he says. "Geothermal addresses the carbon footprint piece of decarbonization. At the same time, it's a very reliable technology. The loops themselves, in essence, are expected to last a lifetime. Additionally, the equipment itself outperforms a lot of the other alternative technologies in terms of life cycle."
Selking also notes there's a lot more to electrification and decarbonization than just eliminating fossil fuel combustion, especially during this COVID era. "We've all become more aware that ventilation is an important piece of the fight against any virus or disease. We live in these tightly enclosed spaces and we need to bring in that fresh air ventilation through a heat exchanger, so it's efficient. You can't just decarbonize and electrify the building, but you need to make it a healthy building as well."
The electrification and decarbonization movement provides the industry with a challenge as well, Selking adds, and that is whether the nation's grid can handle the increasing draw on electricity if everything is converted over from natural gas.
"We already have a peak load issue," he says. "One of the advantages to geothermal is it provides a great peak load shaving opportunity because that ground source is at a constant temperature all day — it doesn't matter if it's 5 p.m. when everyone gets home from work and turns on their air conditioner in Phoenix or if it's in a high heating area in the middle of winter. The peak load shaving is a huge, positive opportunity as we convert the entire country to electrification."
Building heating and hot water represent 40% of carbon emissions in the U.S. Until those buildings get away from burning fossil fuels, the country is not going to meet its decarbonization goals, Egg points out.
"To meet those goals, we need something electric," he says. "There are really two or three types of building electrification solutions. You can go to all-electric by using electric resistance heating, or either air-source heat pumps or you can go to ground-source heat pumps. Air-source heat pumps are a solution in that works in certain areas, especially south of the Mason-Dixon Line, in other words, areas where the cold isn't as severe in the wintertime. However, there are exceptions to that, which we saw last winter in Texas. They had a cold snap that just about destroyed their electric grid, and that's because Texas is a place that uses a good deal of electric heating through heat pumps or electric resistance heating. So when they had that cold snap, their electric grid couldn't handle it. The same thing would happen in any area like New York. Now, think about New York. They are using combustion for spacing and hot water. If we electrify New York haphazardly, they'll become the next Texas.
"Now, if they go with the geothermal solution, the electric peak they see in New York in the summertime (for air conditioning) will be the same as the electric peak in the wintertime. This is because the ground provides enough energy that ground-source heat pumps can do all the heating for domestic hot water and space heating at about the same electrical peak demand level they're currently experiencing in the summer for air conditioning. My point is that geothermal is the answer because you can convert to geothermal without necessarily increasing the electrical grid infrastructure."
Nicole Krawcke, is chief editor of PM Engineer.