In an industry where mergers and acquisitions often get a bad reputation, it's important to recognize the cases where the merging of two companies is of the best interest of each party and their respective customer bases. This was on full display in 2019 when two longstanding PVF product suppliers decided to merge into one powerhouse. 170-year-old New Hampshire based-Anvil International and 30-year-old California-based Smith Cooper joined forces to create what would soon become ASC Engineered Solutions — the PVF product suppliers with the largest spectrum of valve, fitting and hanger products and this year's Supply House Times PVF Ring of Honor Inductee.
The PVF Ring of Honor was created to recognize PVF manufacturers and master distributors that have enjoyed recent success in the marketplace through the execution of progressive and cutting-edge best practices. ASC Engineered Solutions is the ninth inductee joining Charlotte Pipe (2021), NIBCO (2020), Midland Industries (2019), Merfish Pipe & Supply (2018), United Pipe & Supply (2017), Apollo Valves (2016), Penn Machine (2015) and Industrial Valco (2014).
Joining forces
Jason Hild, CEO of ASC Engineered Solutions, describes Anvil International and Smith Cooper (prior to the merger) as "complimentary competitors."
"Smith Cooper brought the complimentary valve and fitting portfolio with experience in the extended supply chain and imported product, while Anvil brought a portfolio of pipe support, hanger and fitting products with a deep knowledge of domestic manufacturing and distribution," he says. "Merging the two companies married this manufacturing expertise with supply chain expertise to create much more formidable market participant."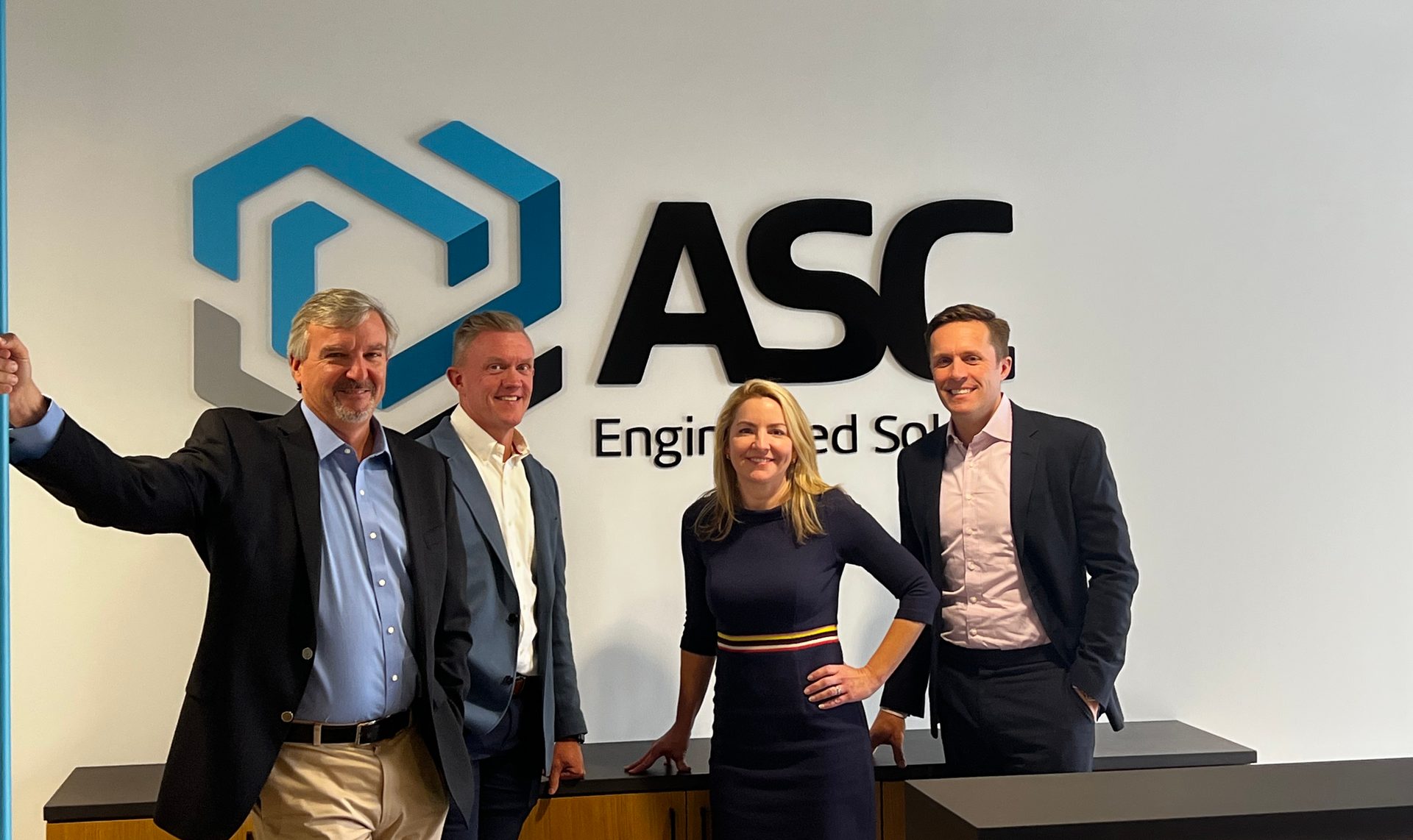 From left: Dean Taylor, vice president of sales, Tim Fox, vice president of marketing, Amy Campbell, chief financial officer and Jason Hild, chief executive officer.
Hild emphasizes the move to merge these two companies was rooted in shared values. "Both companies operated under a culture of service excellence," he says. "And we both approached the market with packaged solutions aimed to make the lives of our customers easier."
Merging two companies is no easy feat, but according to Hild, the similarities between the two were profound enough to be sure it was the right move.
"Of course it's a lot of work both on paper and after the transaction is complete, but there were enough similarities with our cultures that we knew it was going to be worth it," he says. "Both companies approached the market with a service-heavy mindset. This, combined with similar and complimentary operational skillsets, made for a special combination that will better serve our customers."
Prior to the merger, both Anvil and Smith Cooper were market leaders. According to Hild, it was vital to remain in a leadership position throughout and after the merger. "This merge allows us to be an integral part of shaping the PVF industry rather than watching the industry taking shape around us."
Dean Taylor, executive vice president of sales, adds that both companies have always been committed to change and selling through wholesale-distribution. "We were both on a path that was headed the same way, and we were both always committed to selling through distribution," he says. "Both companies were extremely people and customer-centric, and we know those qualities are what's going to drive this business forward."
Solutions, not just product
The Anvil and Smith Cooper merger completed in 2019, but the company undertook a corporate rebranding effort in early 2021, launching with a new name — ASC Engineered Solutions.
According to Hild, finding the right name took a lot of research and intel. "We wanted to come up with a name that honors who we've been and reflects where we want to go," he says. "We gathered extensive data from our employees and partners, asking them what they believe we represent and how they would describe us."
ASC obviously stands for Anvil-Smith Cooper, and then the "Engineered Solutions" portion of the new name stands for the approach to service the company embodies.
"The Engineered Solutions part speaks to what we are increasingly becoming." Hild explains. "A company that provides much more than product, we provide a full solution — whether it's a supply chain solution, partnering with distributors to help meet the needs of their contractor customers, or our design and BIM solutions for other key partners in the value chain — we are committed to offering solutions."
Hild adds that ASC Engineered Solutions is constantly seeking ways to educate all levels of the value chain, providing services all in support of distribution. "We're providing services to support the sale of the product, which is increasingly important as products become more technical and labor in the field becomes scarcer."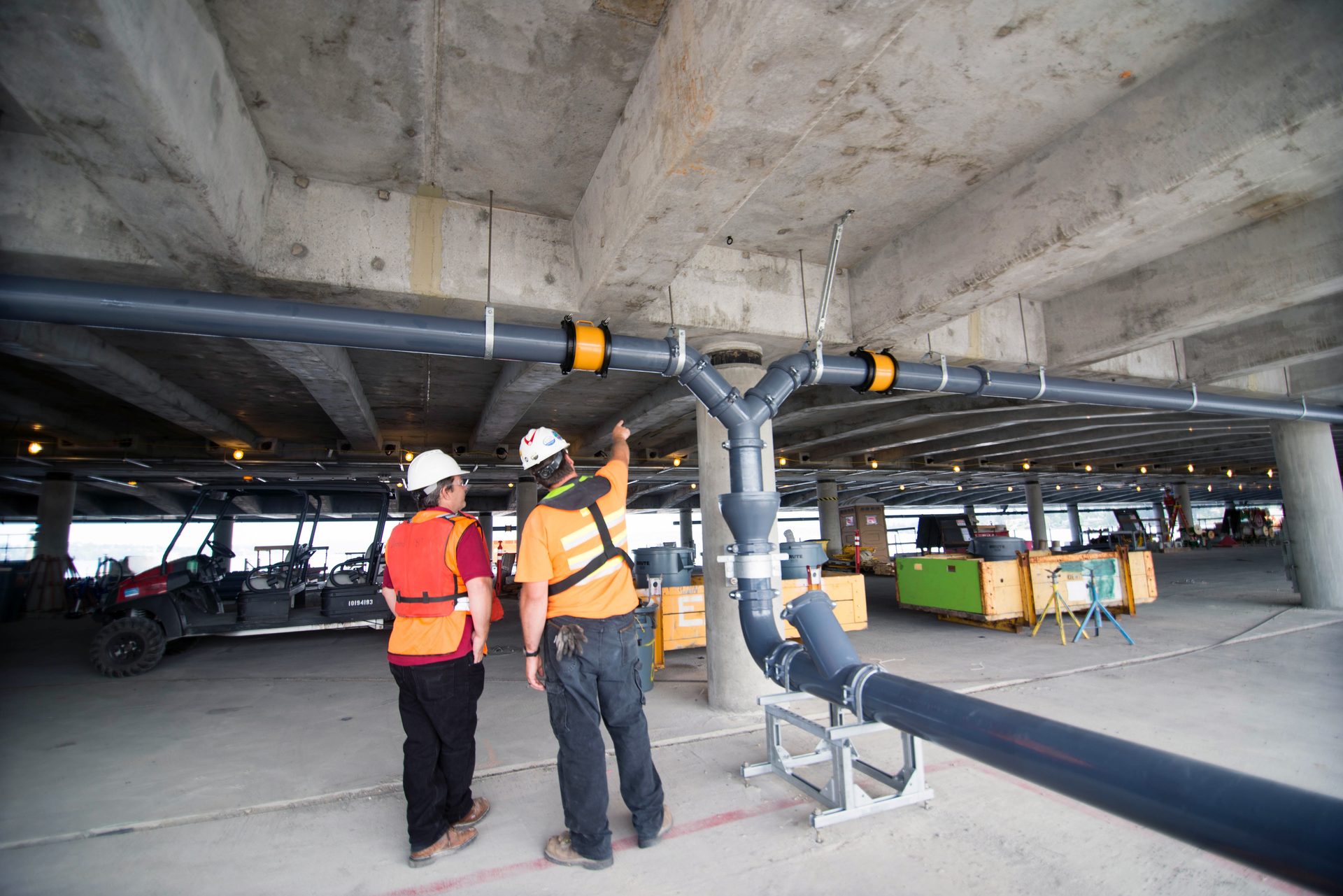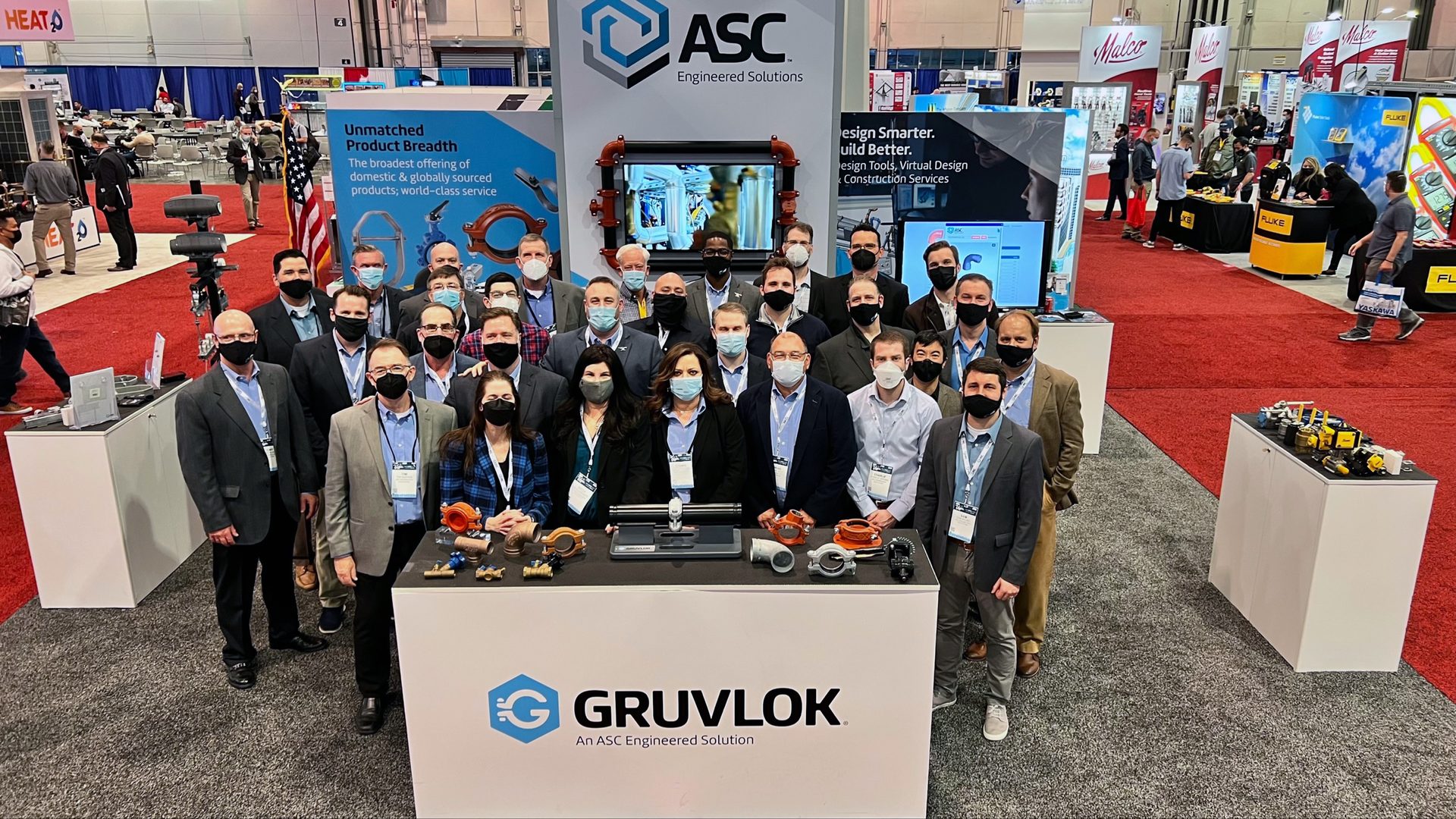 ASC Engineered Solutions' team at the 2022 AHR Expo in Las Vegas,
ASC Engineered Solutions supplied product for a recent bridge installation.
Taking the solutions portion of its name seriously, ASC Engineered Solutions has an array of design tools including BIM and CAD solutions, ASC Tools — an Autodest Revit plug-in that increases designer productivity — and a team of virtual design and construction (VDC) engineers to assist in detailed design activities.
"Understanding the needs of the contractor is what drives the evolution of all of these services," Taylor points out. "We strive to be market leaders in the design services arena and I think that truly sets us apart from our competition."
Seth DePuy, chief strategy officer at First Supply says ASC Engineered Solutions is continually creating innovative solutions. "ASC is astutely aware of the market dynamics and continually listens to the needs of its customers, in turn, creating innovative products and driving programs that move the needle," he says. "ASC's breadth and depth of quality professional products is second to none which allows them to compete at the highest level. "
Lasting connections
One of the company's monikers is "Building Connections that Last," a tagline that was carried over from Anvil. According to Taylor, that phrase has multiple meanings.
"Of course we mean lasting products and PVF systems that stand the test of time," he says. "But the other huge piece of that is the relationships with our distributor partners and our customers' customers. Throughout all of the challenges COVID-19 and supply chain disruption brought us, we have remained a relationship, people-to-people company."
Taylor believes that the past few years have built stronger relationships throughout the supply chain. "We are seeing customers rely on us at a larger scale to be a deeper supply chain partner," he says.
Hild adds that since the merger, ASC Engineered Solutions has enjoyed opportunities to build business further with many of its customers.
"On one hand I think this success is due to the fact that we are a revitalized, forward-thinking company with comprehensive solutions that match the needs of the market," he says. "But I also recognize that throughout COVID-19 and supply chain disruption, customers naturally needed more from us and relationships organically grew because of that."
Taylor adds that the company is noticing more engagement from customers when it comes to Vendor Managed Inventory (VMI) and Electronic Data Interchange (EDI).
"As a company we've offered these solutions for more than 25 years, but there has been hesitation to get on board for decades," he says. "Within the past couple years I've noticed a lot more interest and willingness to adopt these technologies."
Hild points out that these services are an example of ASC Engineered Solutions ongoing investment in technology-enabled services. "We've invested significantly in BIM and other digital services not only by investing in the technology themselves, but investing in growing and educating our team to implement these services in the ways that best serve our customers."
Scott Russell, senior vice president, category management for Ferguson echoes ASC's longterm commitment to customer relationships. "ASC is a great partner because they are best in class in product quality, product availability, service and supply chain efficiency.  We have enjoyed a long partnership with them, and we value their loyalty and commitment to their customers and our industry."
Mark Wassink, executive vice president for Galloup agrees, pointing out ASC's ability to develop deep partnerships. "ASC leadership listens to the distributor — an important thing that many manufacturers forgot a long time ago," he says. "Partnerships are not one-sided and in our experience, ASC knows what a partnership looks like.  We go to war together in the market  winning and losing together not blaming each other.  We hold each other accountable and are willing to have tough conversations which make us both better."
Giving back to the industry
Part of what got ASC Engineered Solutions nominated for the PVF Ring of Honor is its consistent support of and engagement with industry associations and buying groups. The company is a member of the American Supply Association (ASA), the Mechanical Contractor's Association (MCAA) and several major buying groups.
"Taking advantage of the relationship building opportunities that lie within these organizations is huge for us," Taylor says. "But we also love giving back to the industry, particularly by investing in education resources. Over more than 20 years we've given more than $600,000 to the MCAA Educational Foundation."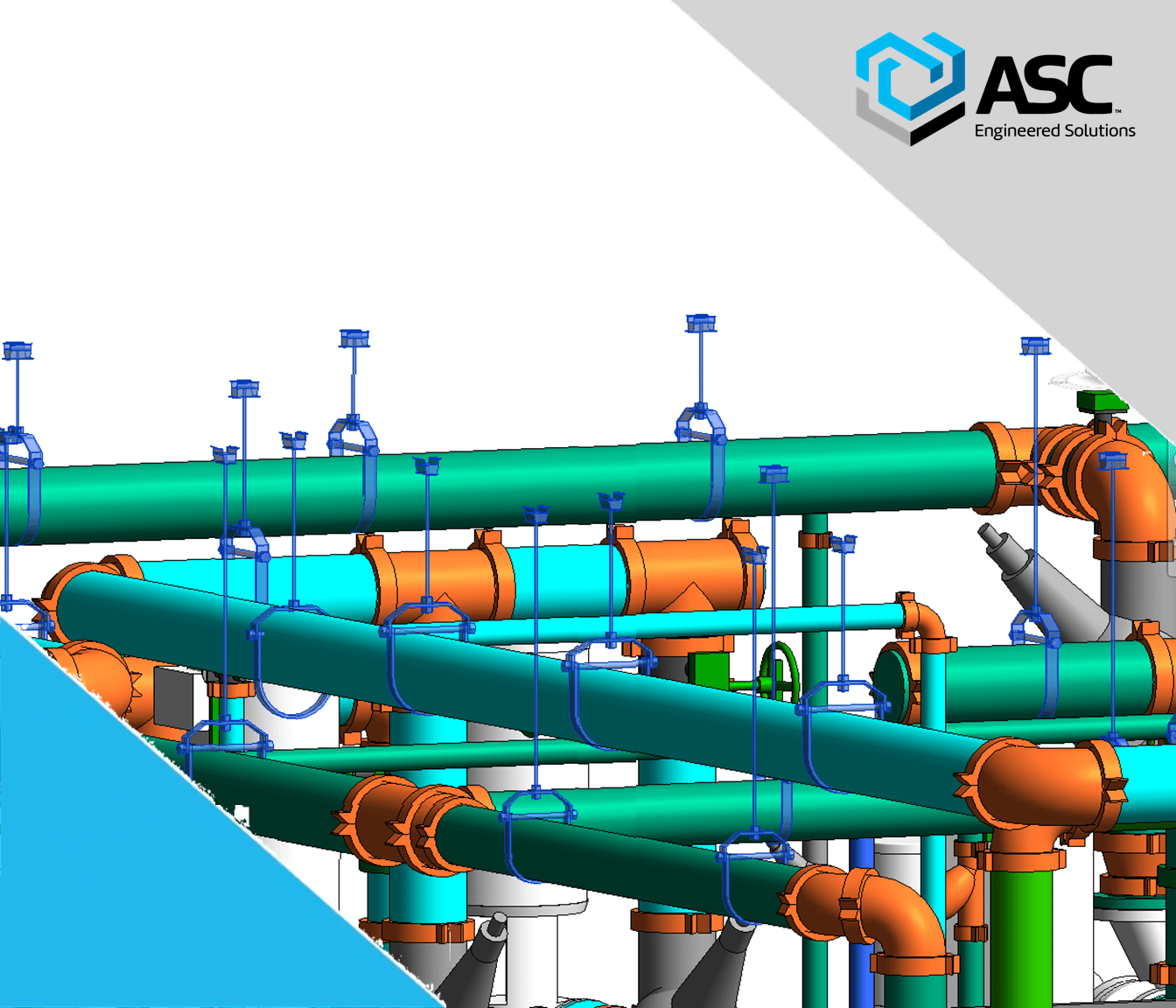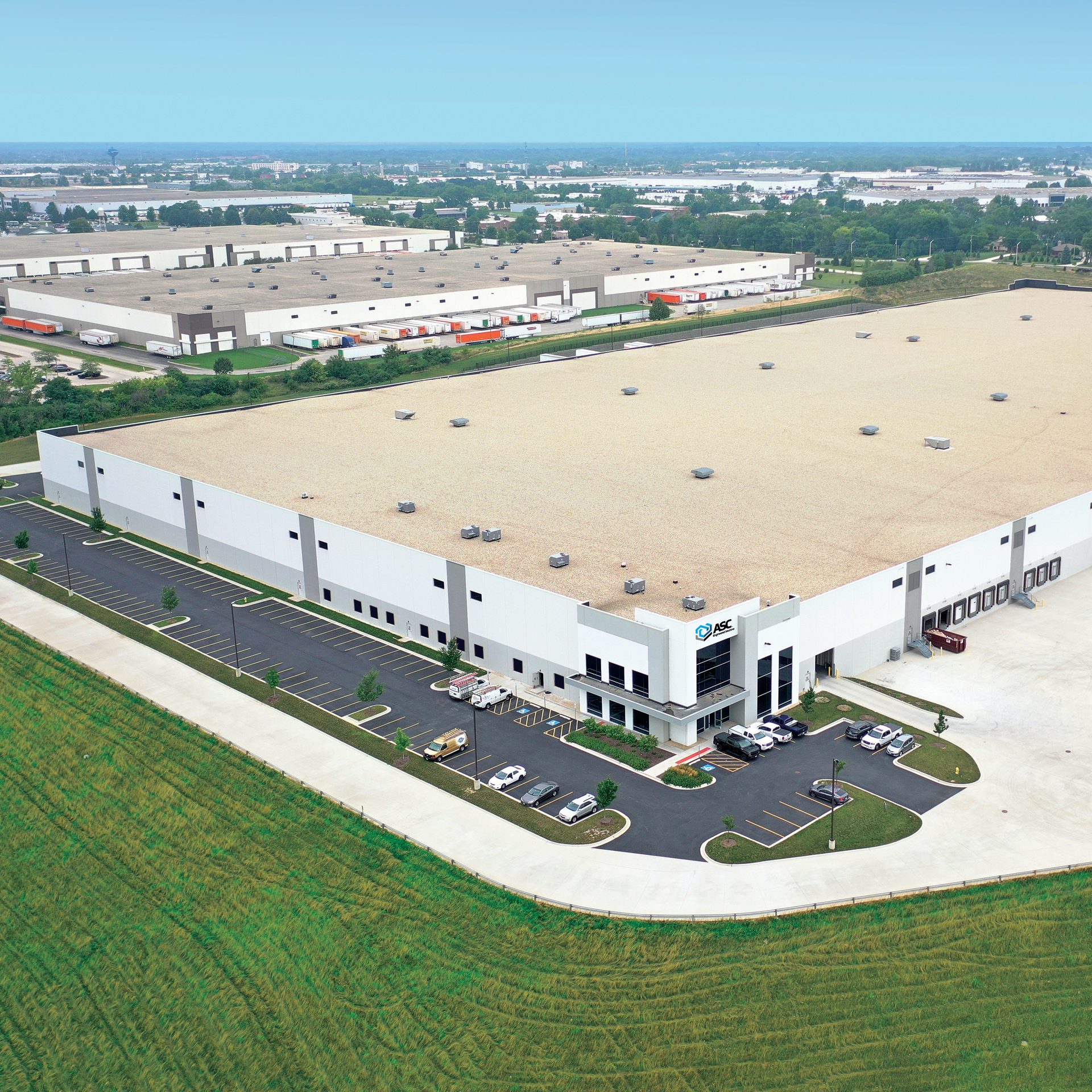 Aerial view of ASC Engineered Solitions' distribution facility in Romeoville, Illinois.
ASC Engineered Solutions invests heavily in BIM and CAD design tools for the engineering and contracting communities.
Taylor says it's kind of a no-brainer to be involved. "If you want to live in the industry the right way, you've got to be a 'give back' company," he says. "We've been successful in this industry, so we have to continue to give back and set those up behind us for success as well."
Hild agrees, pointing out that the company's tagline comes into play here as well. "Part of building connections that last is interacting," he says. "The best interaction happens at these association events and buying group shows. We want to be right in the middle of these interactions. It reflects exactly what our tagline means, and you have to earn that tagline, you can't just slap it on the door and claim it to be true."
Constant evolution
Although the PVF sector has seen plenty of challenges over the past couple of years, Taylor remains optimistic about the health of the industry and ASC Engineered Solutions'' ability to adapt.
"The industry has major labor concerns," he points out. "We're making investments in our facilities to meet demand in a tight labor market. And we're not looking at these investments as a way to reduce the number of employees. We look at it as a way to keep the employees safely engaged, drive higher productivity and support our growth plans."
Taylor adds that while there are certainly hurdles to overcome, he's not worried about the health of the industry. "This is a fantastic industry," he says. "I've been doing this for 36 years and I've seen speed bumps, recessions and problems arise, but we have remained resilient and I have great faith that we will remain that way through the challenges of today as well."
Hild agrees, noting that challenges such as inflation, a possible recession and an aging workforce are all issues that are not going to go away, but rather they are things the industry needs to work together to navigate through.
"It's all about the people who make up your business and the people you partner with," Taylor says. "We have the best people here at ASC and I have great confidence in their ability to tackle whatever comes their way."
Taylor and Hild agree the key is to be adaptable and excited for change. "Changes have always been coming to our industry," Hild says. "I think they are coming a bit more quickly than they have in the past, but we are actually excited to see some these changes because we are in the position to invest and navigate them in a favorable way for ASC.
As long as we continue to invest, remain people-centric and stay true to our core values of excellence collaboration, accountability and integrity, we will be in the position to come out on the positive side of these trends."
Natalie Forster is chief editor of Supply House Times. Reach her at forstern@bnpmedia.com or 224-201-2225.