Supply House Times Products of the Year
The top 20 most popular products from 2022.
itsskin / Creatas Video via Getty Images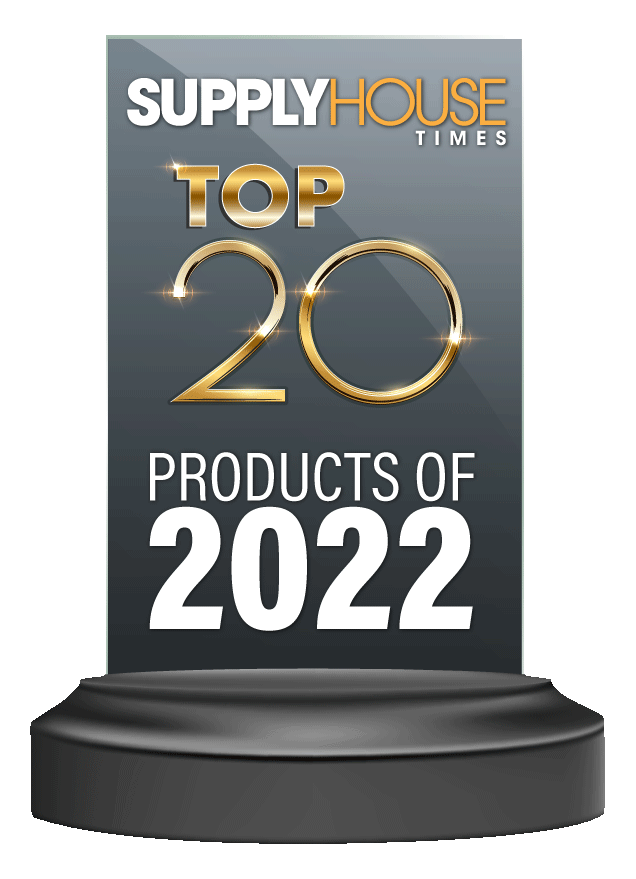 Readers rely on Supply House Times' website to bring them the latest new PHCP-PVF and bath and kitchen products each year. Here are the top 20 most popular products from 2022 based on page views at supplyht.com.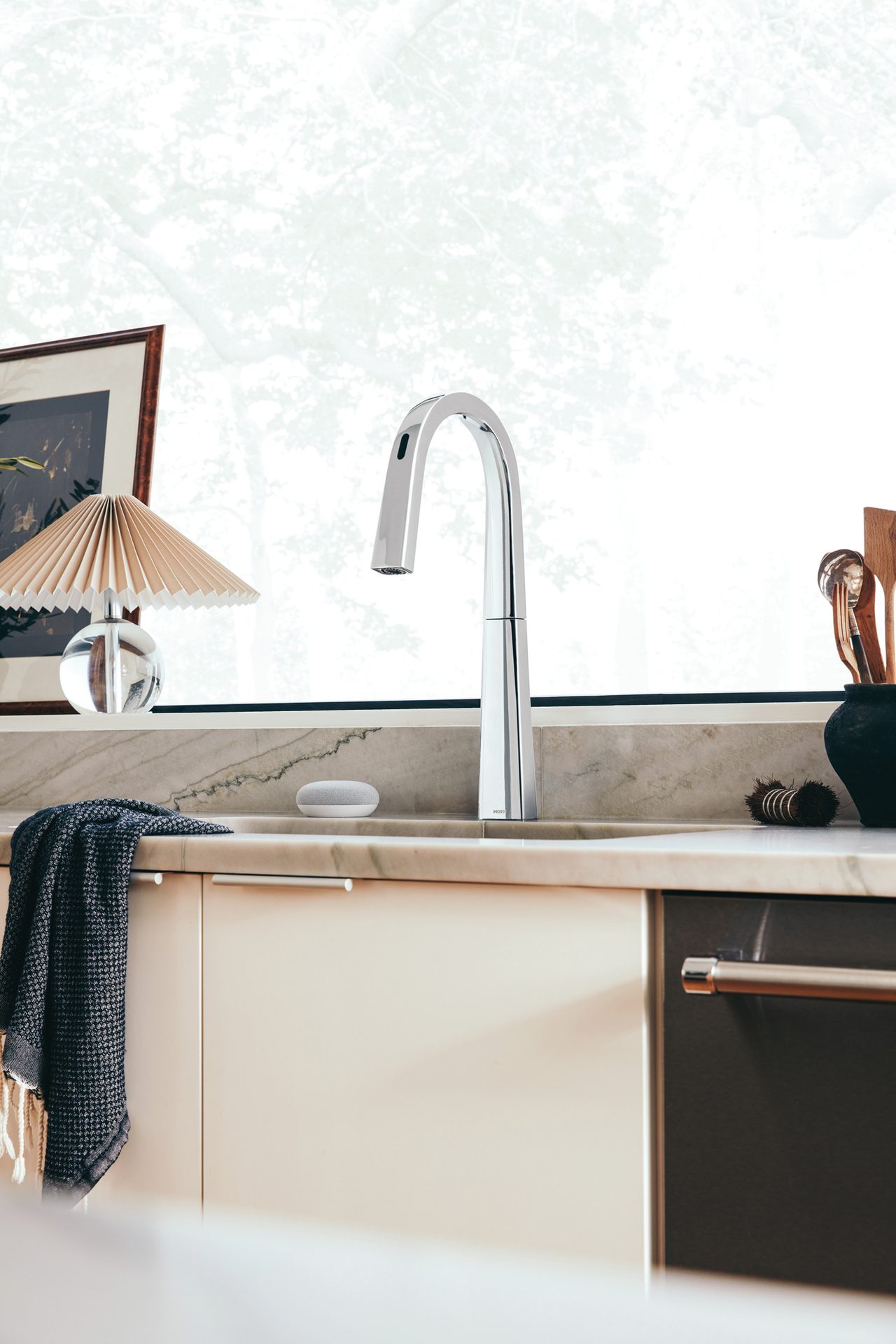 Moen Smart faucet with motion control
The latest advancement in Moen's whole-home Smart Water Network, the Smart Faucet with Motion Control, features new, touchless technology that allows the user to control temperature by using simple hand motions. Homeowners can choose from hot, warm or cold water with a simple swipe of the hand over the sensor, Moen explains.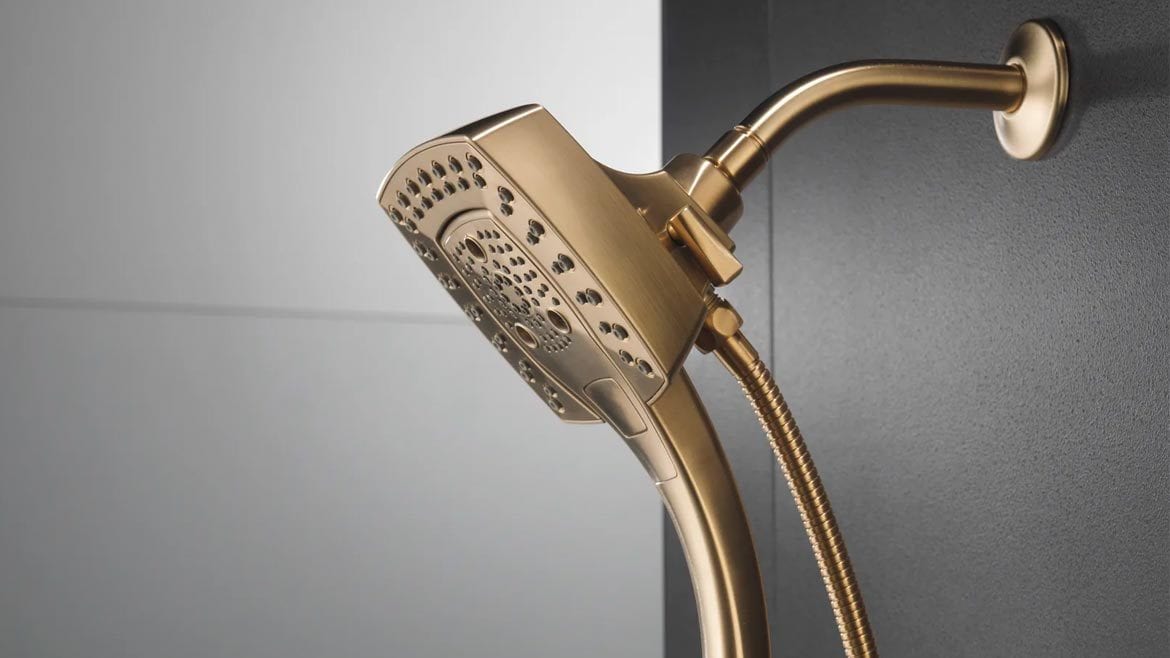 Delta Faucet two-in-one showerhead
The Delta Faucet In2ition Two-In-One Showerhead is an option that combines its shower head and hand shower in one. End users can use both together or separately in a variety of spray patterns. The showerhead simply screws in and features a detachable hand shower which can be used separately from or simultaneously with the shower head, Delta Faucet explains.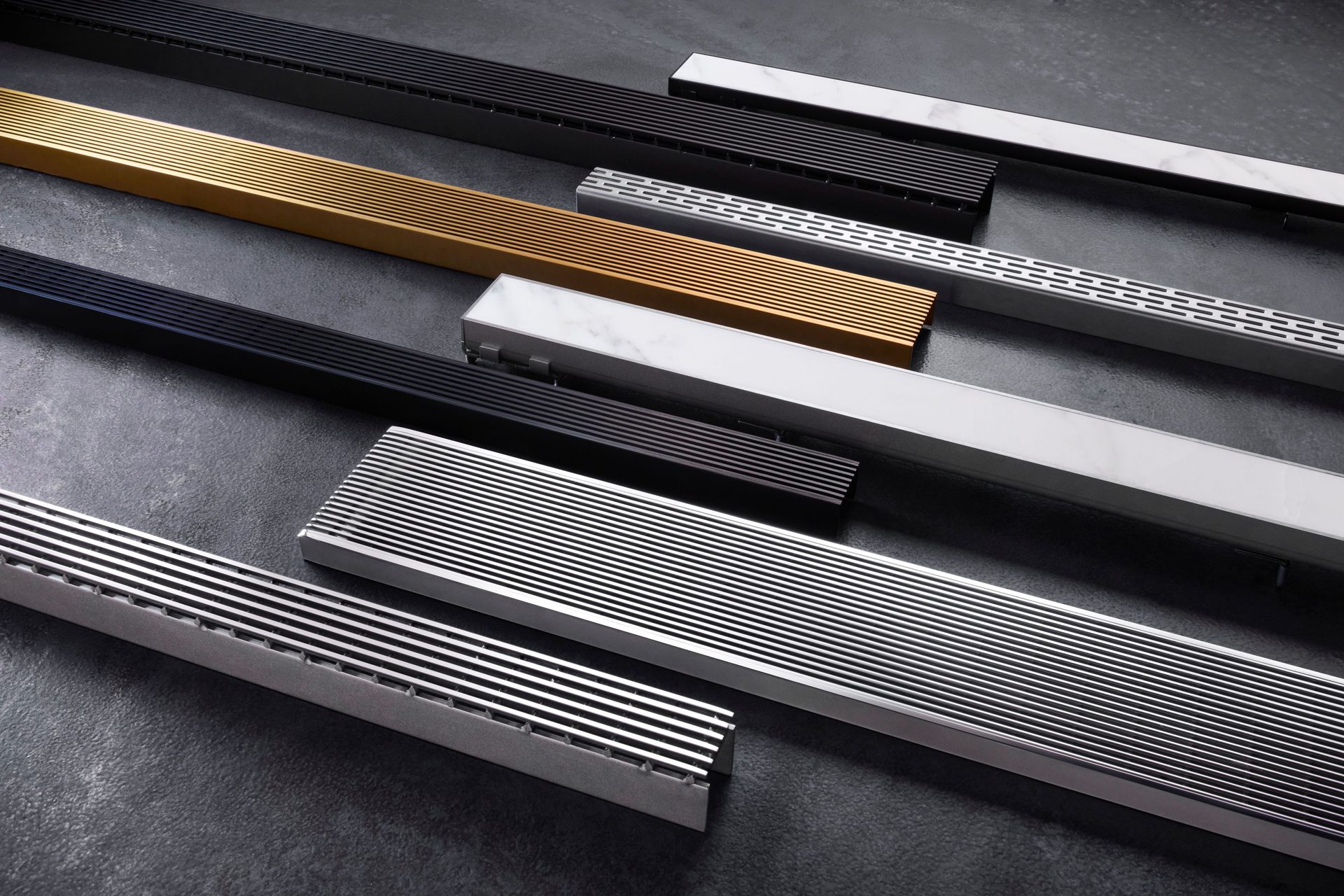 Infinity Drain custom drain collection
Infinity Drain introduced its first Custom Collection in a stylish matte Smoke Black. Infinity Drain's Custom Collections represent current trends frequently requested by architects and designers – demonstrating Infinity Drain's Complete Custom Fabrication capabilities and strengths. Smoke Black is a powerful dark neutral matte finish that matches popular fixtures in luxury bathroom design and is one of the most in-demand custom finishes of the moment.
California Faucets wall mount faucets
California Faucets new vessel faucet designs include styles ranging from traditional, transitional, contemporary, industrial and even steampunk. The variety, combined with California Faucets' signature "mix and match" flexibility and finish options, makes it easy for anyone to create a one-of-a-kind luxury look in the bath, the company notes. Like all California Faucets products, vessel faucets are made to order in the company's Huntington Beach, California factory. Each wall-mounted faucet features ¼ turn ceramic disc cartridges and a 1.2 gpm water savings aerator. Pricing starts at around $527 for select styles in Polished Chrome and include Faucet Trim only.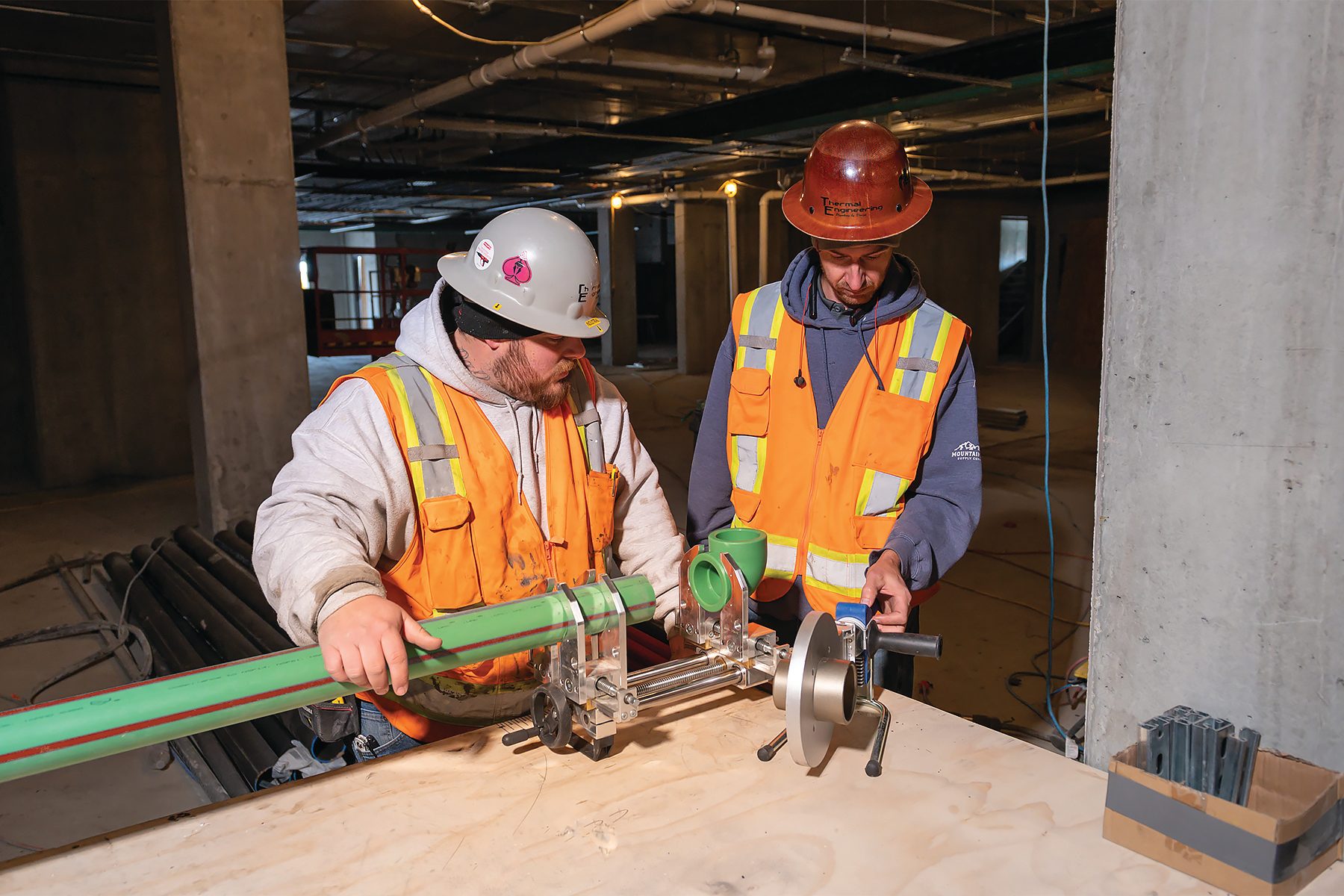 Uponor hot potable pipe
Uponor began offering PP-RCT pipe and fittings in 2020 with more than 300 parts for mechanical piping in sizes from ½" to 12″ and cold potable piping in sizes from ½" to 8″. Now, with the addition of hot potable piping in sizes from ½" to 8″, Uponor has a comprehensive offering for mechanical and potable applications, all covered by a 10-year limited warranty. To further address demand, the company is also pursuing a multiple-source model that will offer a consistent supply of Uponor PP-RCT for customers and future commercial projects.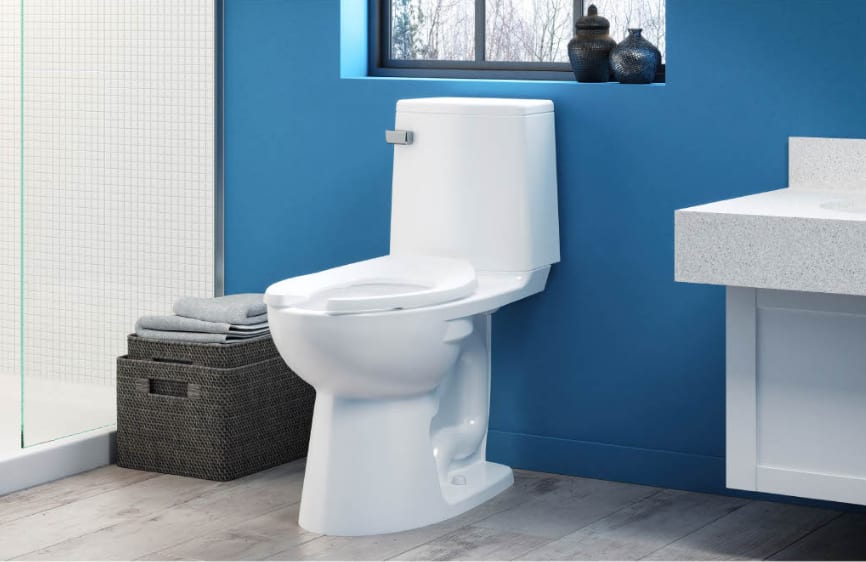 Sloan Gravity Toilet
Sloan's new Gravity Toilet features a sleek one-piece look with the benefits of a two-piece toilet that makes maneuvering parts easier for installation while delivering improvements that increase efficiency, aesthetics and hygiene for a wide range of commercial applications, the company notes. The tank design features a slightly inverted taper for a modern aesthetic and a raised deck that eliminates rocking. Additionally, Sloan Gravity Toilets include Centriflo, Sloan's dual-delivery bowl technology. By eliminating rim holes, Centriflo helps prevent bacteria and germs from collecting in the bowl, making the toilet much easier to clean, Sloan adds.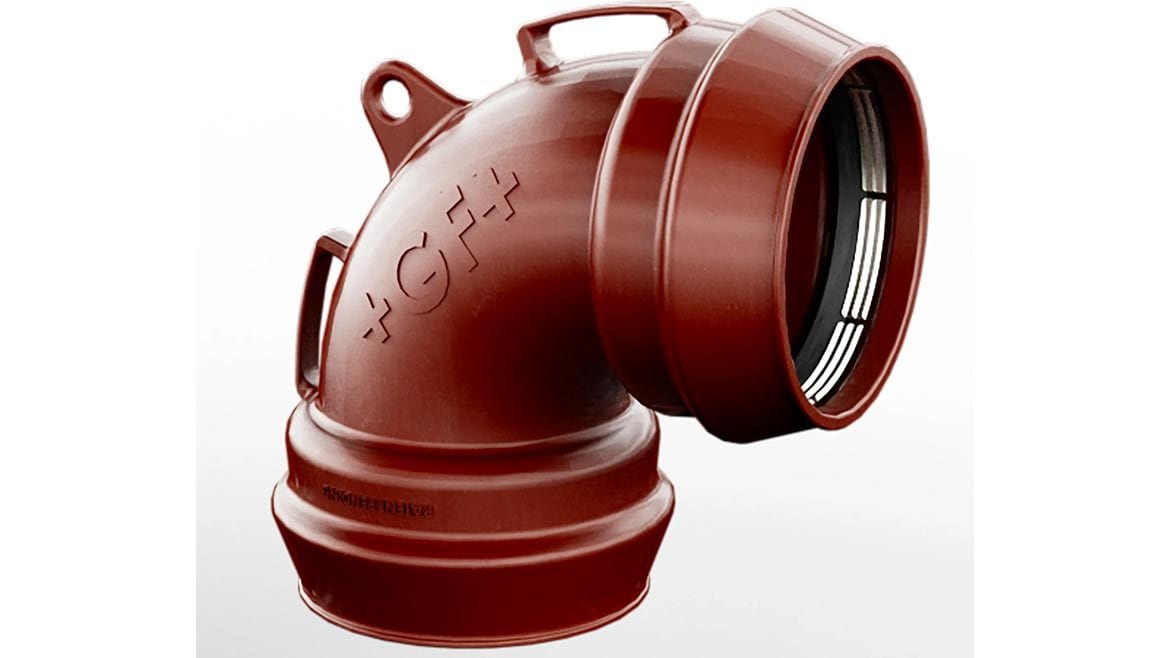 GF Piping Systems Ductile iron fittings
The new LOKX System Ductile Iron Fitting from GF Piping Systems features an internal self-restraining gasket that eliminates pipe-to-pipe and pipe-to-fitting separation, even at high pressures. The push-on style fitting eliminates the need for any bolts or assembly tools, saving up to 80% in installation time and labor costs, the company says.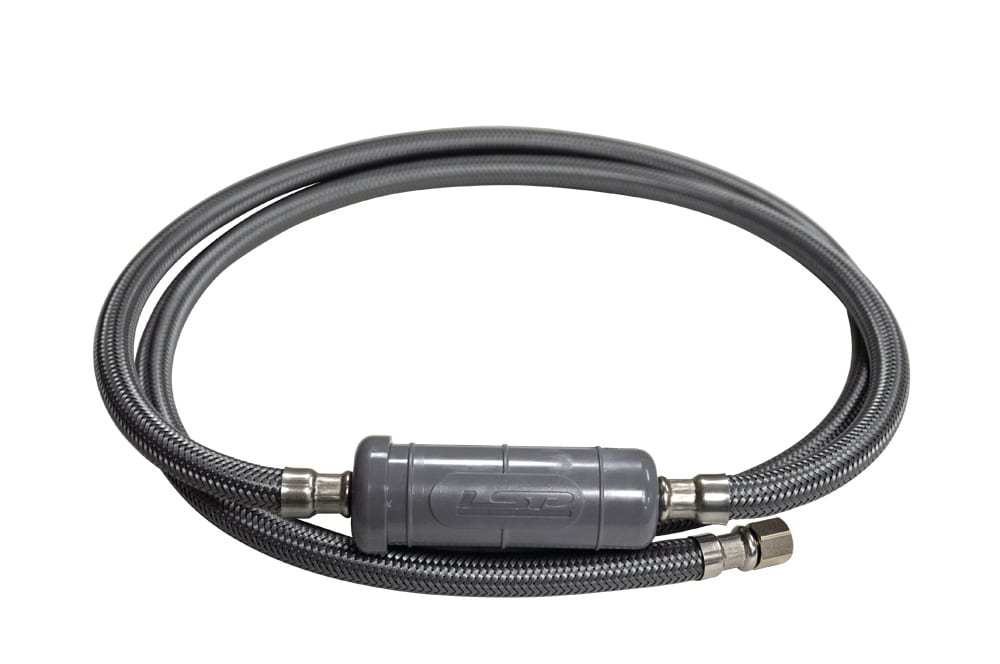 LSP Flex Arrester connectors
Eliminate annoying and potentially dangerous water hammer when installed in icemakers, dishwashers, washing machines, faucets and toilets. Designed with the patented LSP Inline Hammer Arrester built into a corrosion-resistant polymer braid with Ultra Core. Easy to install with directional Water Flow arrow clearly imprinted on the Hammer Arrester.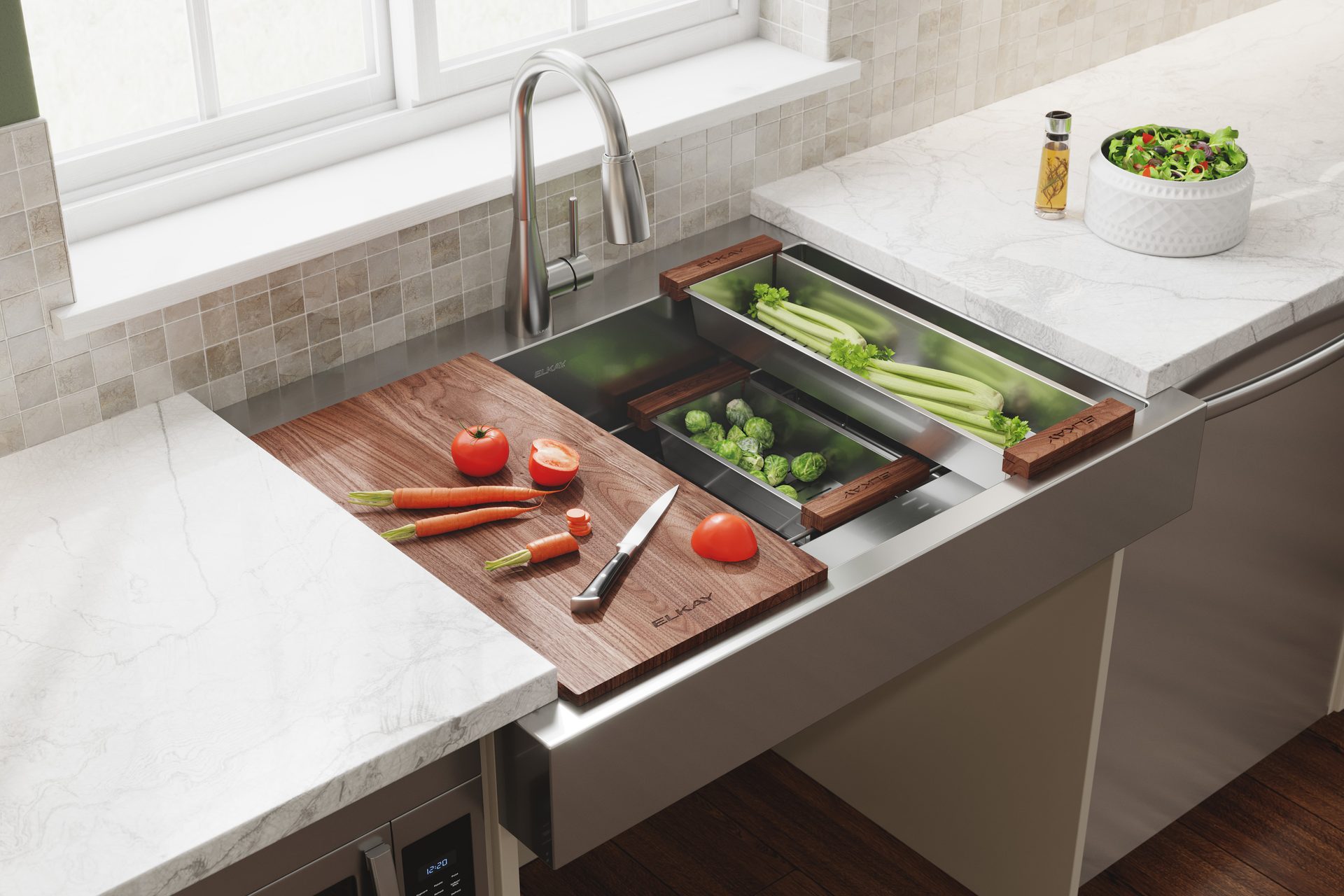 Elkay farmhouse sink
Elkay's Dart Canyon stainless steel farmhouse sink provides better everyday solutions for homeowners while saving space and keeping the kitchen organized, Elkay notes. It is a first-of- its kind ADA-compliant sink, offering a deep bowl, the highest-quality 16-gauge stainless steel and reversible grid, making space saving and organization a breeze, the company adds.

Noritz hard water treatment solution
Tankless water heater manufacturer Noritz America recently released an updated version of its revolutionary hard water-treatment product, Scale Shield. The original Scale Shield aids in preventing the buildup of hard water minerals while eliminating the need for a water softener. The updated Scale Shield is sold in a kit (SS-HB-3) via wholesaler-distributors or on the Noritz website and includes a wall bracket, wrench, lubrikit, pressure gauge and one HBC-3 cartridge. Individual cartridge replacements can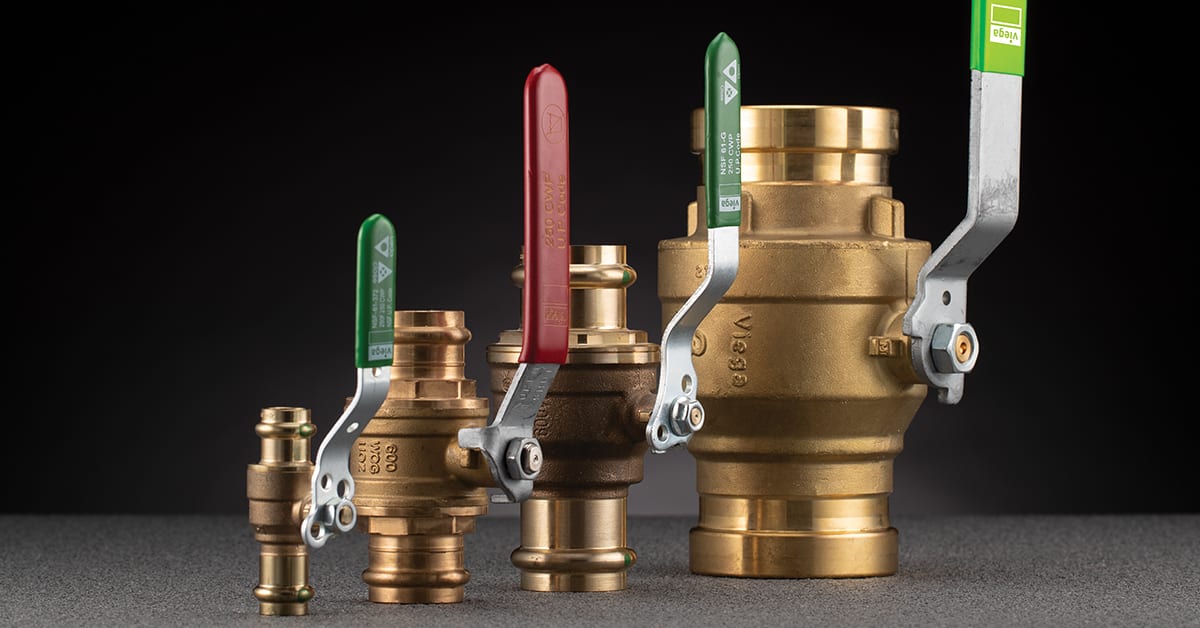 Viega expanded valve lineup
Viega has introduced an entirely new line of MegaPressG valves in sizes ½" to 2". These valves, like MegaPressG press fittings, are approved for use in gas and fuel oil applications. The valves are suitable for use with ASTM Schedule 5 to Schedule 40 carbon steel pipe. Viega also is launching larger sizes of its MegaPress 3-piece ball valves, the first press ball valve of its kind in the 2½" to 4" range.  In addition, ProPress valves are now available in sizes 2½" to 4" for use with copper and stainless CTS pipes. The new valves are approved for more commercial, industrial and residential applications than any other system. All Viega valves are equipped with Smart Connect technology, which makes it easier to find unpressed connections.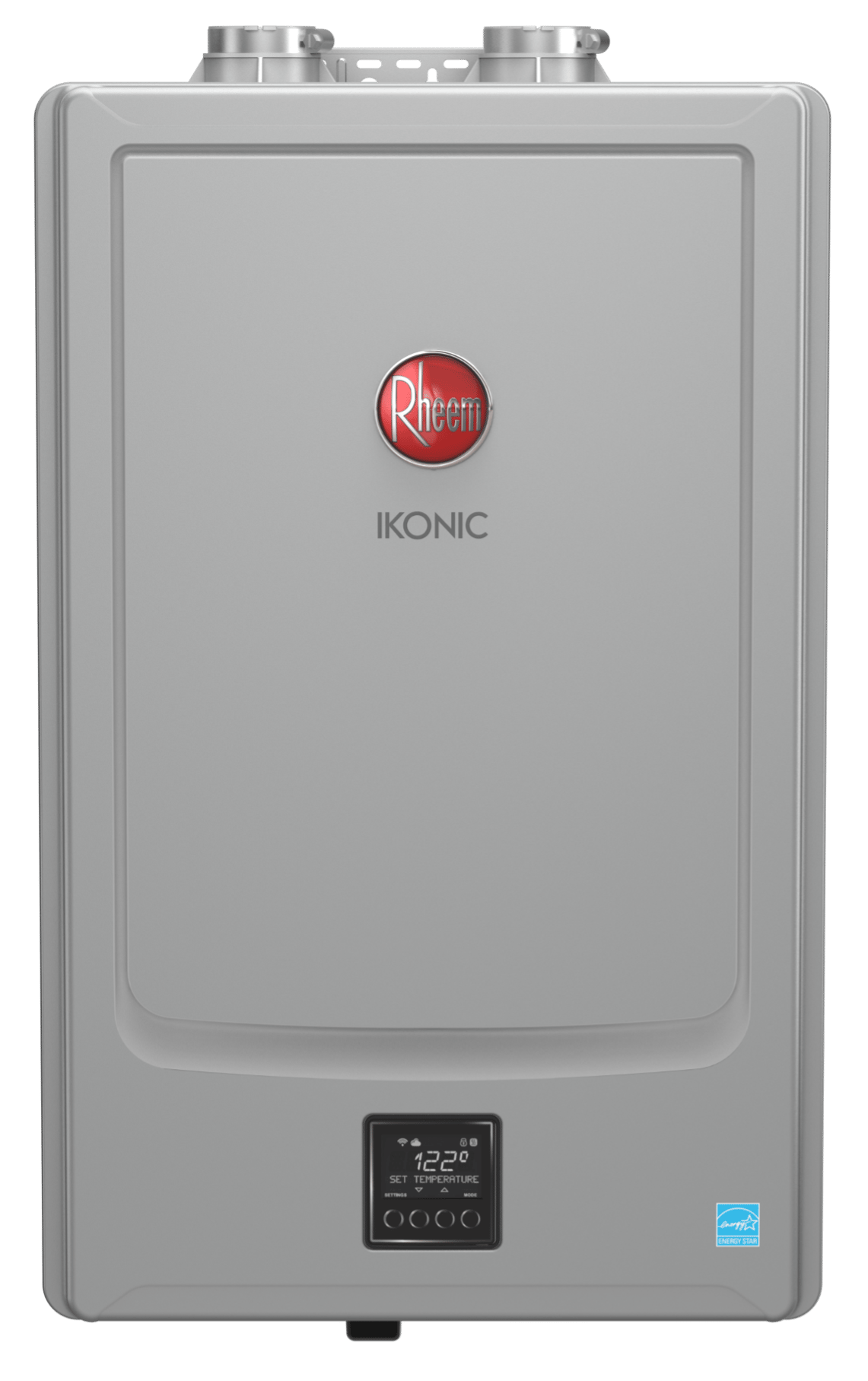 Rheem high-efficiency gas tankless heater
Rheem's new IKONIC high efficiency condensing gas tankless water heater delivers a 0.96 UEF[i], resulting in up to a 36% reduction in energy use and carbon footprint and up-to 65% reduction in NOx emissions. Also featuring a built-in recirculation pump (SR models), Rheem IKONIC offers homeowners no wait access to continuous hot water, preventing up-to 12,000 gallons of water from being wasted down the drain each year.   With integrated Wi-Fi Technology, Rheem IKONIC provides users with complete control of the unit from anywhere. This includes temperature adjustments, energy usage tracking, and modifying recirculation modes - all from a smart phone with the EcoNet Mobile App.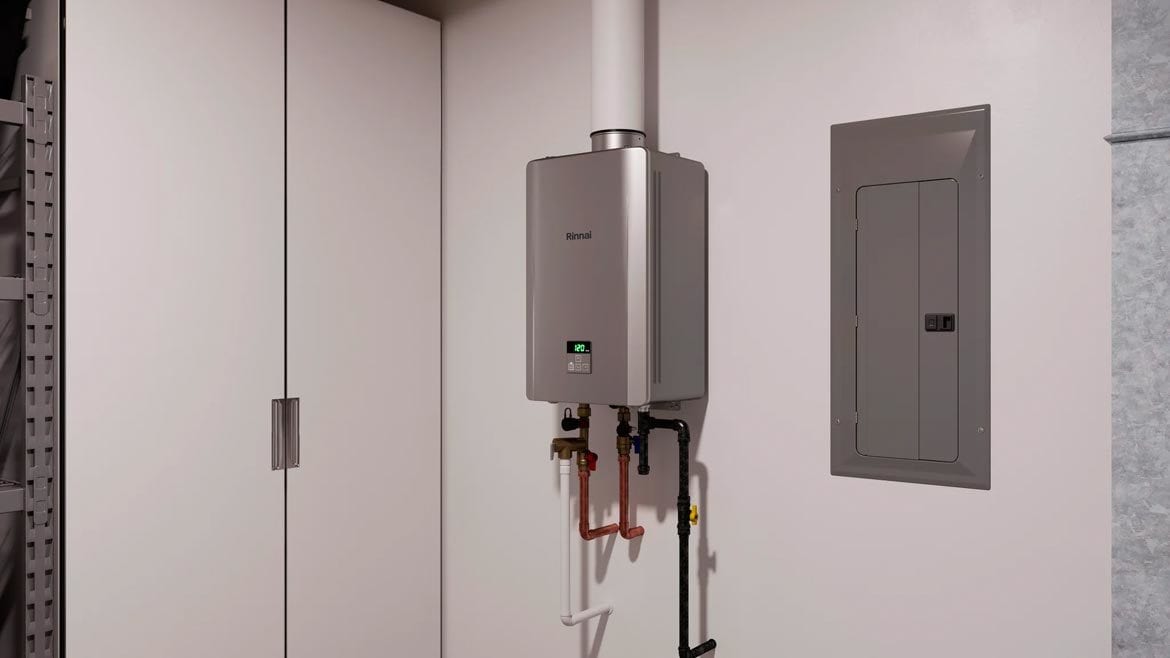 Rinnai non-condensing tankless water heater
Rinnai launched the first and only non-condensing unit with a built-in pump, featuring Smart-Circ Intelligent Recirculation, its RE Series tankless water heaters. The RE Series features Rinnai's latest innovative Smart-Circ Intelligent Recirculation. This technology learns a user's hot water usage patterns over seven days, then schedules the built-in pump and times recirculation patterns accordingly. Users enjoy hot water during regular demand periods while saving energy and money. The RE Series is also available with the control•r Wi-Fi module, to achieve scheduled recirculation or on-demand operations if that is desired.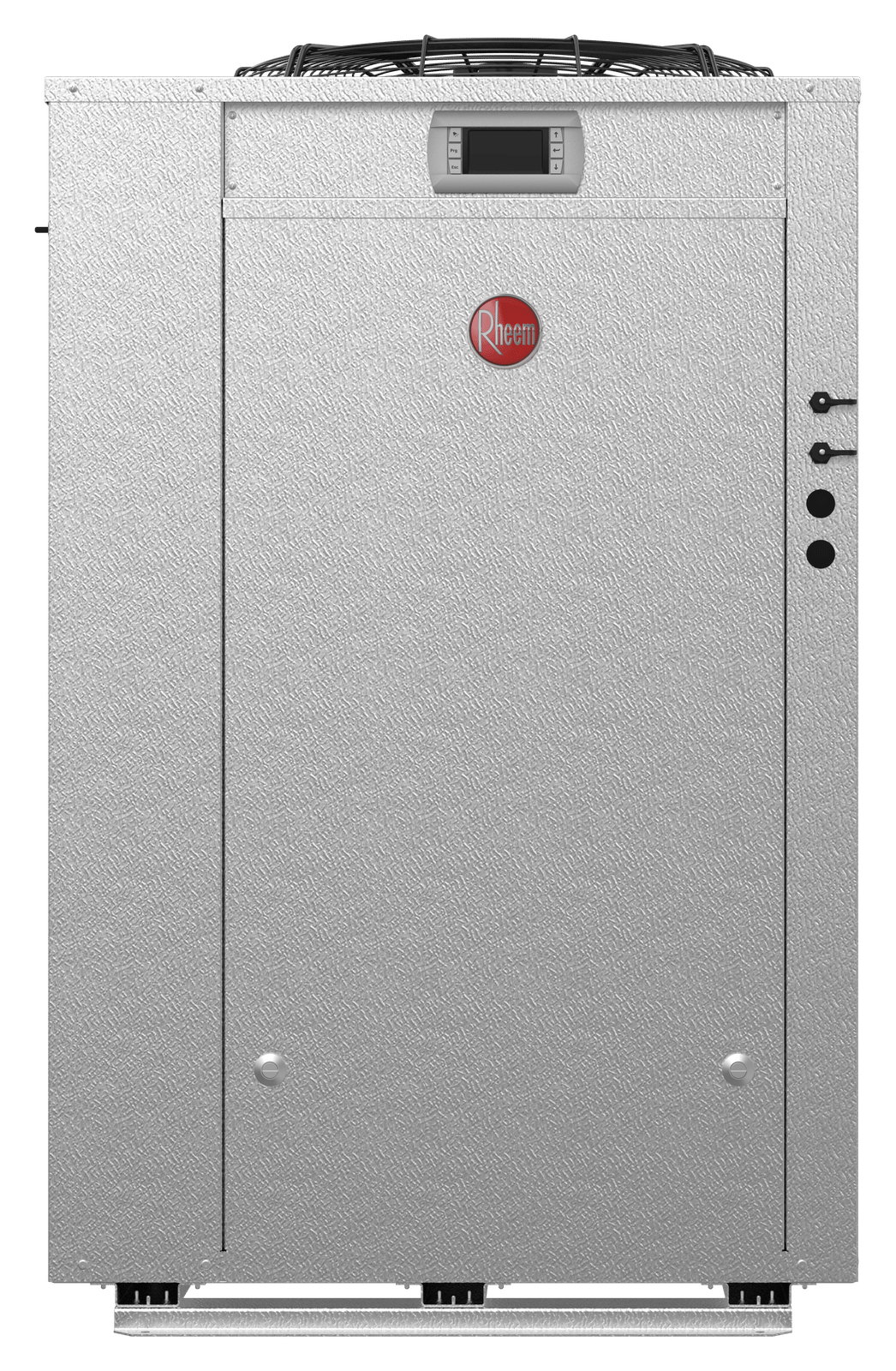 Rheem Commercial heat pump split system
With increased electrification and greater energy efficiency, this unit from Rheem is built for large-scale commercial applications where a large amount of potable water is needed at usable temperatures. Up to a 75% reduction in energy use and carbon footprint is achievable as this ENERGY STAR certified model meets decarbonization qualifications, Rheem notes.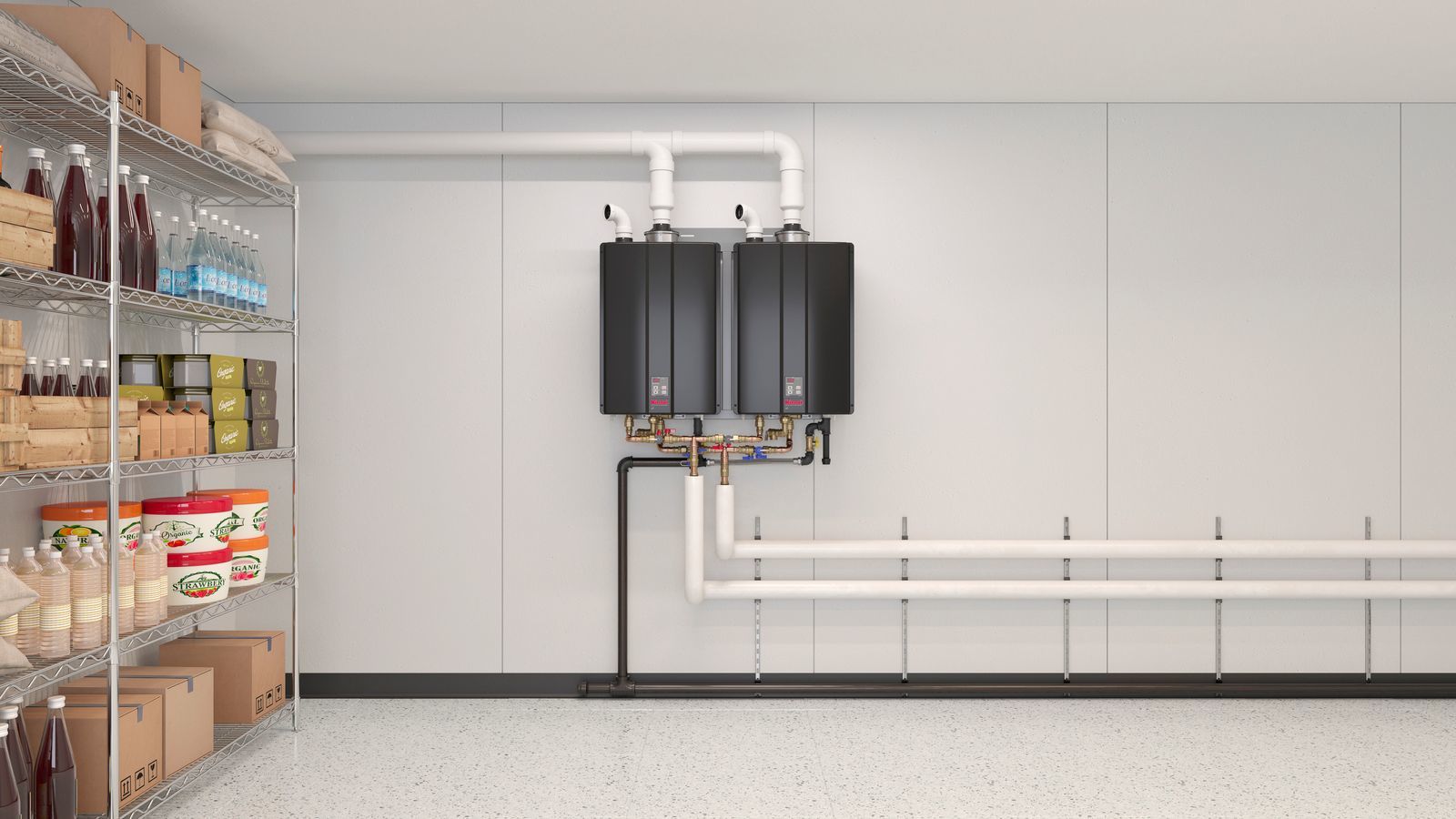 Rinnai compact wall-mount system
Designed to offer faster and more flexible installation in an easy to transport package, Rinnai's TRX compact wall-mount system takes less than half the time to install, Rinnai points out. The system is shipped pretested and preassembled, so contractors can move the TRX system from truck to jobsite with ease.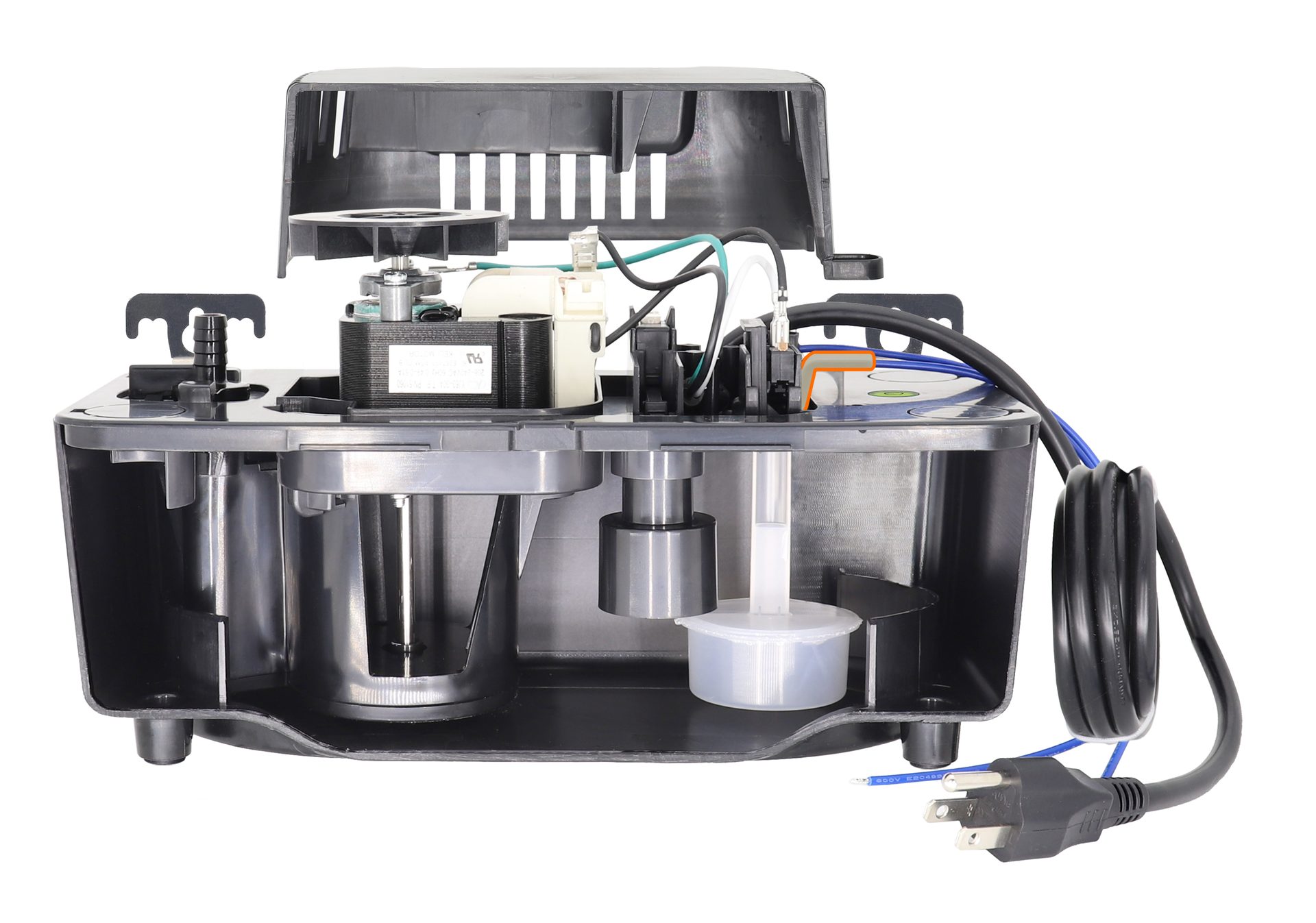 New condensate pump series from Beckett Corp
Beckett Corporation, a manufacturer of HVAC condensate management solutions, released its new line of medium condensate removal pumps, the BK17 and BK22 series. The new BK line includes 8 model options that offer a maximum lift of 17' and 22', depending on the model. A larger, 2.5-quart tank that allows it to run less often and last longer while a a ⅜" quick-release check valve that requires no tools. The pump is easy to install, with multi-slot metal mounting brackets to retrofit other major brands and a lid-mounted bullseye level for proper and quick installation reference, the company notes.
New kitchen collection from DXV
DXV unveiled its newest kitchen collection, Étre. The latest pieces are a representation of the design era known as "Machine Age Modernism," a time when design influencers centered around functionality, practicality and purpose. True to this concept, the Étre Kitchen Collection is defined by sleek, modern lines with adaptable and durable design elements for maximum utility, DXV adds. The Étre Kitchen Collection is comprised of a pull-down kitchen faucet, pull-down bar faucet, single and double bowl apron-front sinks in various sizes, and a soap dispenser.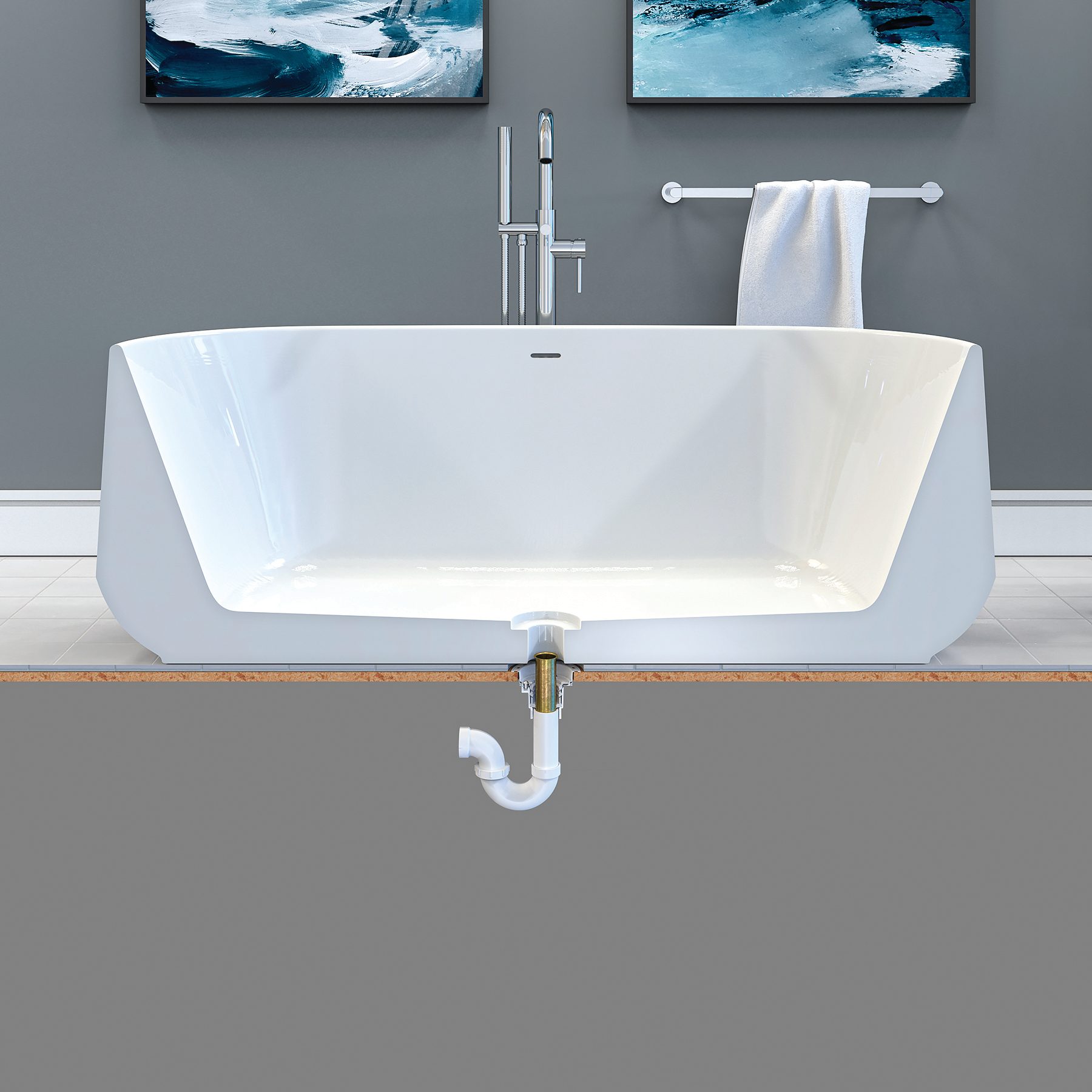 Oatey tub drain
The 1916 collection is a part of L.R Brands, an Oatey Innovation. The 1916 collection universal freestanding tub drain works with freestanding and island center, and offset tubs. When installed at rough-in, it provides simple installation between the P-trap and tub — without needing access from below the floor, Oatey points out. Available in ABS, PVC or cast iron with a plastic or stainless steel flange, this drain is compatible with brass or Schedule 40 tailpieces.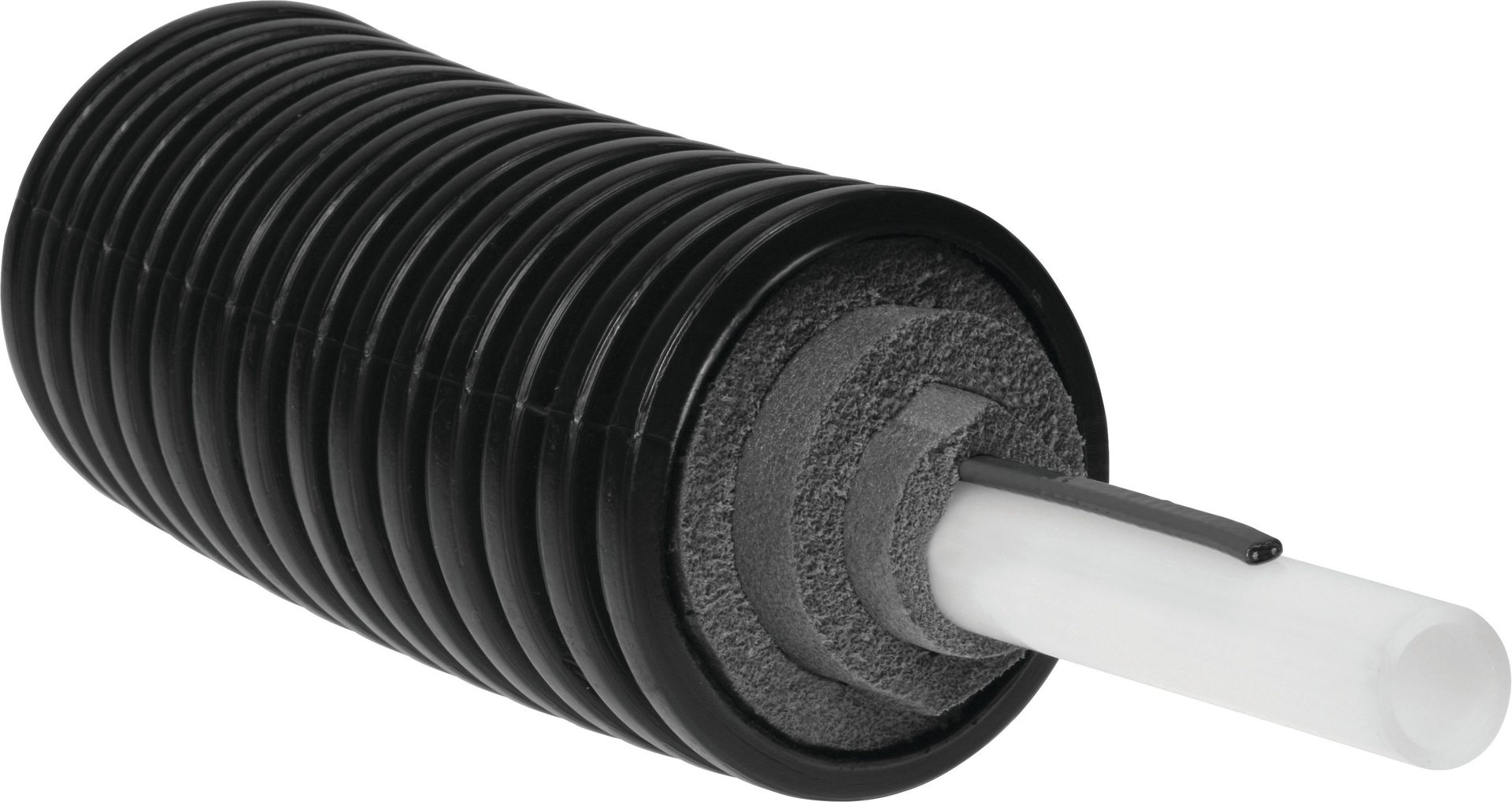 Uponor pre-insulated PEX system
Uponor's Ecoflex pre-insulated PEX pipe system for underground potable-plumbing applications provides energy-efficient freeze protection in cold climates. Designed for fluid transfer in various hydronic heating, cooling and potable water applications, the product features a 1-¼" Uponor AquaPEX (PEX-a) service pipe with a 7 W/ft. heat-trace cable that runs its entire length. The pipe and cable are surrounded by multi-layer, PEX-foam insulation and covered by a corrugated, waterproof HDPE jacket, making it ideal for direct-burial applications. Ecoflex pre-insulated pipes install easily and quickly in residential or commercial applications, even around obstacles and corners.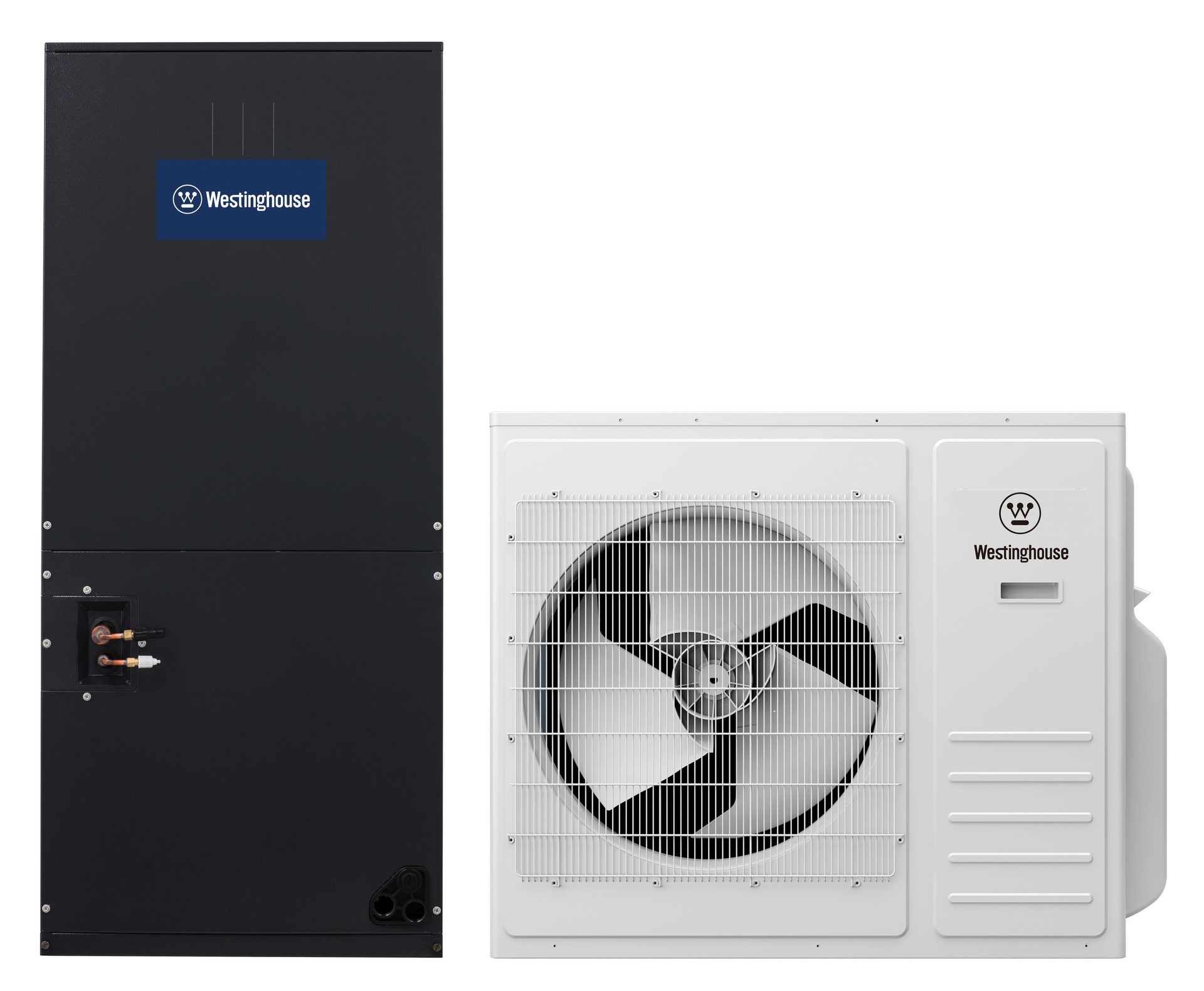 Westinghouse multi-position air handler
Westinghouse has added a new multi-position, quiet operation air handler to competitively-priced line of mini-split heat pump systems for the U.S. and Canadian markets. The air handlers can be operated with many different types of 24V controllers. The modular design of the air handlers permits discharge air directly up, or horizontal to right or left. They also provide up to 0.8 inWC static pressure. A filter base/rack is available. The new, high efficiency air handlers are available in 24,000, 36,000, 48,000 and 60,000 BTUh sizes and are designed to accept extended refrigerant piping lengths, offering heating operation down to -13°F and come complete with a built-in base pan heater. Optional electric heat kits are available.